Quote of the Day: Very few of us are what we seem. Agatha Christie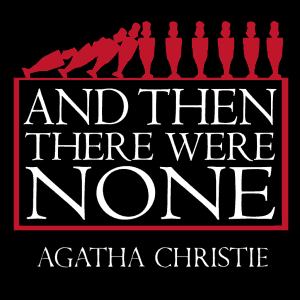 Pequot Lakes Community Theatre (PLCT) is presenting And Then There Were None, a classic murder mystery by the master herself, Agatha Christie. Christie is the most celebrated and prolific mystery writer in the English language. She wrote 93 books and 17 plays, including the longest-running play of modern day theater, The Mousetrap (I enjoyed playing the part of Mollie Ralston in a HS production several years ago). With her creations of two famous detectives, Hercule Poirot and Miss Marple, captivating settings and interesting characters, as well as adaptations of her stories for stage and film, she enjoyed a long and successful career, starting in the 1920's until her death in 1976 and beyond. She is the forerunner for other great mystery writers like the late, great Sue Grafton, whose alaphabet mystery series I adore, (I mourned her recent death, and now the alphabet ends with Y.) Gillian Flynn (Gone Girl) and Paula Hawkins (Girl on a Train) to name a few, myself included.
Christie was genius in her setup for her mysteries. Often, the characters are trapped in a secluded situation. A blizzard has isolated guests at the Ralston manor in The Mousetrap, and the folks in And Then There Were None are on an island with no way of getting away. As the body count rises, so does their anxiety. I spent much of the time watching this play trying to guess who would get offed next! Christie also gives her characters a backstory that creates suspicion, both for us as the audience trying to figure out who done it, and for the other characters wondering who to trust and who to fear. 
The actors who portray all these characters with their shady pasts do an excellent job of making each unique and interesting. Their interaction is suspenseful, at times humorous, and builds tension. If I didn't have a full weekend of swim meets and time with family, I'd drive up to Pequot Lakes and watch it again. And, that's knowing the ending! Christie wasn't just good at creating mystery, she was a master storyteller. It is fascinating to watch the story unravel, to take in the details, and get inside the heads of the players. That's why we watch movies over and over, right? Because we are drawn to the characters. It's also why series are so popular. Once an author has created a character that people connect with, they've got it made. We can't wait to revisit an old friend who has a new set of problems, mysteries to solve, and relationships to examine. (i.e. standing in line at midnight to purchase the next installment of the Harry Potter series)
Director Craig Friday gives himself a cameo as the narrator, welcoming us into the world of Agatha Christie and reciting the poem this story is based on, now titled Ten Little Soldiers. The line that confused a couple of us referred to "The Chancery," a British word for courts, especially those dealing with equity, or "in a hopeless predicament." You can read more about the show in this article in the Pine and Lakes Echo Journal. The creative team consists of  
Fred Narracott  played by Gary Binda of Crosslake; Mr. (Tom) Rogers, Isaak Anderson, Pine River; Mrs. (Ethel) Rogers, Liz Berg, Pequot Lakes; Anthony Marston, Phylipe Bell, Pequot Lakes; Vera Claythorne, Karla Johnson, Brainerd; Philip Lombard, Eddie Binda, Merrifield; Dr. Armstrong, Travis Chaput, Brainerd; William Blore, Ben Gordon, Pine River; Emily Brent, Jen Anderson, Pine River; General Mackenzie, Larry Petron, Nisswa; and Justice Lawrence Wargrave, Peter Herzog, Pequot Lakes.
The production crew includes Julie Friday of Crosslake as the stage manager; Kim Utesch of Pine River as the technical director; Jared Foss of Brainerd and Matthew Bonfig of Merrifield as the technicians; Tim Leagjeld of Pine River as the set designer and builder; Debra Binda of Crosslake as the costumer; and Gary Binda of Crosslake as the properties master.
Presented through special arrangement with Samuel French Inc., this production is made possible by the voters of Minnesota through a grant from the Five Wings Arts Council, thanks to a legislative appropriation from the Arts and Cultural Heritage Fund.
Local sponsor is Central Lakes College Theatre. The play's subject matter is intended for mature audiences and may not be suitable for those under age 12.
And Then There Were None is playing through February 25, 2018. Tickets are $14 for adults, $12 for seniors and $10 for youths. For information and tickets contact Pequot Lakes Community Education at 218-568-9200. Reserved seats also may be purchased online at www.glapa.info.
Go. Create. Inspire!
Journaling Prompt: What are some surprises you've learned about your friends or family?