(Reposting this review to promote Lorna Landvik's Party in the Rec Room improv at Bryant Lake Bowl. Weekends in January 2019. I'll be in attendance soon! Can't wait to experience this again.)
Quote of the Day: Improv helps you in all areas of your life; helps you think on your feet, helps you listen, helps you show up in the moment. Lorna Landvik, author and stand-up comic.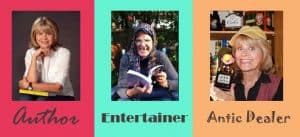 My friend Jackie and I had the absolute pleasure of attending Party in the Rec Room, Lorna Landvik's stand-up comedy show at Bryant Lake Bowl in Minneapolis, MN. The venue is this great local bowling alley/restaurant/theater in the Lyn-Lake area of Minneapolis. (Arrive early, parking is a sketchy.) We didn't get there quite early enough to bowl a game, but we did enjoy a delicious dinner in the restaurant/bar area. You can also order food and drinks in the theater. 
I'm a huge Lorna Landvik fan. I've read several of her books, my favorite is Oh, My Stars and I have a fondness for Welcome to the Great Mysterious. Our Northside Book Club read 'Tis the Season for our December 2017 holiday book and everyone enjoyed it. She is a Minnesota author, so I feel an instant connection. She has visited the Brainerd lakes area many times to do workshops, library Brown Bag author visits, and has been the M.C. at our annual Wine and Words library event in August. She gives us glimpses of her wonderful comedy sketch as she leads these events and workshops, and she gives us support and encouragement. At one writers' workshop, she asked us to shout out a setting and set up for a story, then asked us to write an opening scene. She picked me to share mine and said, "Keep writing." Whenever writers ask for advice on pursing their dream, she says, "Never take 'no' as a final answer."
At Party in the Rec Room, Lorna enters as a Rock Star, bursting with energy and welcoming us with margaritas. She asks for help from the audience (don't panic, she's not there to embarrass anyone) to provide the set-up for her improv. "You folks, way at the back, give me a place you'd like to fly to." Then, she gestures to the left side of the room, "Okay, people from Fridley, give me an emotion that starts with the letter L." Then, she looked at my section. "I'd like an emotion that begins with the letter T." I shouted "Terror!" Lorna disappears behind her screen/curtain and comes out with a wig/hat/prop and develops the character in the moment. I thought that she used those few minutes to create her character, but it's even more improv than that.
I asked Lorna how she prepares. "Often when I grab a wig or glasses or a hat backstage, I don't know who I'm going to be until I'm on stage and open my mouth. That to me is the wild fun of improv." And, it is wild fun to watch it unfold. She gets those three words and works them into the sketch, always keeping in mind, she says, establishing the Who, What, When, and Where. She assigns an audience member to be her secretary and has her write down the three words. If she forgets one, she makes allusion to it towards the end of her bit, and sometimes the secretary or audience member shouts it out. Math was confusing (when isn't it). First, she couldn't hear the person from the back very well and wasn't sure if they said, "Math," or "Band." Then, she didn't use it, so someone yelled, "Math!" Her character was Hugo, an ice-fisherman, smokin' a Swisher Sweet cigar, sitting on his ice bucket, and as soon as "he" remember Math, began calculating bait and catch size. It was a hoot!
One of my favorite characters was an older woman (Irene, I think) who was running for congress. She was a widow with a free spirit. She said she would bare it all and run on the platform of Love. She used my terror word in this sketch, and I was ready to sign up to be her campaign manager! 
She did an activity that I plan to use in my Youth Theater Workshops here in the Brainerd lakes area. She asked a woman from the audience (Joannie) to come up and read passages from a book, On Golden Pond. Lorna had us help set up the scene. She asked us to shout out a profession, Lawyer. She asked for a relationship, Sisters. And, something couples normally fight about, Money! As Joannie read the passages, Lorna responded in character like they were really sisters working together in her law office, fighting about money. It was brilliant!
One of the last bits was a character from what I imagined was Appalachia who came out with a crazy accent. From what I could understand from her explanation, the answer to "How to find world peace," is through dancing, singing, story-telling, community, and laughing together!
I asked Lorna what advice she'd give to young people who want to try this art form. She said, "For someone in an improv class, I'd say to them; don't try to be funny, don't have any expectations, just react to the information the other person is giving you and add to it. It's always about saying 'yes.'"
My goal for the Theater Scene in 2018 is to get more laughs and attend comedies. Attending Party in the Rec Room with Lorna Landvik was a great start! I hope you can say yes to comedy offerings in your area. If you're in Minneapolis, catch Lorna at Bryant Lake Bowl on Friday and Saturday nights through February 17, 2018.
Go. Create. Inspire!
Journaling Prompt: When was the last time you had to think fast on your feet? Are you good at being in the moment?