Quote of the Day: I came to see hunger as being as important a part of a stage as knife skills. Because so much starving on that trip led to such an enormous amount of  fantasizing about food, each craving became fanatically particular. Hunger was not general, ever, for just something, anything, to eat. My hunger grew so specific I could name every corner and fold of it. Salty, warm, brothy, starchy, fatty, sweet, clean and crunchy, crisp and water, and so on. Chef Gabrielle Hamilton in her memoir Blood, Bones, and Butter.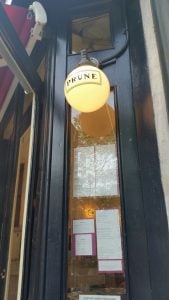 The Biker Chef and I traveled to New York City to celebrate my 50th Birthday, my idea. I had a strong need to see the Broadway hit Come From Away, so my trip was built around Broadway. His was built around food. He's a country boy and prefers to ride his Harley out West, and avoids cities, but he said that he'd like to go to the Big Apple for the culinary experience. One of the restaurants he really wanted to experience was Prune, Chef Gabrielle Hamilton's sweet, little restaurant on the Lower East Side of Manhattan. We had both read her memoir, Blood, Bones and Butter, The Inadvertent Education of a Reluctant Chef. I called and got a table for two on September 5, 2017.
We were so excited to get there, and were also unsure of the taxi ride over, how long it would take, etc. that we got there early. Also, we're Midwesterners and regularly eat at 6:00, Minnesota time. It was fun to see the restaurant come to life, the doors flung wide open. It was a warm September evening, and we had the full effect of hanging out on a street in The Village that reminded me a little of Sesame Street. The playground was across the street, a fenced off area with concrete where young men were playing handball and moms and dads were pushing kids on swings.
The host offered us the seat by the open door. Our server, Danielle, walked outside the restaurant and served us from the street side. A little bench sat near the door where people would wait for their tables.
As soon as we sat down, Danielle gave us a bowl fried chick peas to nibble on while we studied the menu. We ordered a lovely Reisling and toast for an appetizer, that had fresh tomatoes, chervil, and blue cheese – crunchy, salty, sweet and tangy. My first taste of that was my favorite bite. The Biker Chef said his favorite bite was that first taste of chicken with lemon sauce, a true French country flavor. (He was trained in a French kitchen.)
The Chef ordered the half chicken, and I had the lamb ribs. For sides, we had the Greek salad and eggplant dish. You can watch Chef Gabrielle making that on the show Mind of a Chef, season 4, episode 1. Everything was delicious. The Biker Chef described it as French country infused. Our server Danielle said it was signature Gabrielle, as is everything on the menu, with a little bit of Ashley, Gabrielle's partner who is also a chef at Prune. 
We ordered the ice cream parfait for dessert, and Danielle also brought out a lemon semi-freddo, like ice cream, only different, to celebrate my Birthday. So lovely and delightful.
We were so glad that we took the adventure to find Prune. It's tucked in between all the apartment buildings on a one-way street. Our taxi driver seemed to be circling the place, so we told him to just pull over, and we walked around the block and found it. (Our GPS must have been better than his.) We connected with Uber for our return trip and had an excellent experience. In fact, the driver was so quick in getting to the restaurant that we had to wrap it up fast, sign the bill, and get going. Honestly, the bill was not crazy expensive. Minus the wine, it was comparable to a nice restaurant in Twin Cities of St. Paul/Minneapolis in Minnesota. The experience, however, was priceless. 
Glancing into the restaurant, which quickly filled, we saw people of varying ages and couples, friends. People sitting at the bar sharing appetizers and a drink. The ladies sitting next to us were celebrating a Birthday, as well, and maybe a recovery from a serious illness. They chatted with us a little. They lived in the area. In fact, I had the sense that most of the people there were New Yorkers. We were never treated like "annoying tourists." I think Danielle understood that we appreciated our experience at Prune. The Biker Chef would have liked to meet Chef Gabrielle, but she wasn't there that night.
Go. Create. Inspire!
Journaling Prompt: What are some of your favorite dining experiences?