Quote of the Day: While I was still at home I used to hear Father airing his opinions and they became my opinions; or if I didn't happen to agree, I kept it to myself – he would have been displeased otherwise. He used to call me his doll-baby, and played with me as I played with my dolls. Then I came to live in your house -…I've lived by performing tricks for you, Torvald. But that's the way you wanted it. You and Father have done me a great wrong. You've prevented me from becoming a real person. Nora, the main character in Henrik Ibsen's A Doll's House.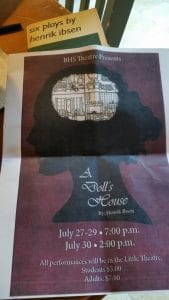 Norwegian playwright Henrik Ibsen wrote A Doll's House in the late 1800's. Although Ibsen claimed that he was not a feminist, he wrote: A woman cannot be herself in the society of the present day, which is an exclusively masculine society, with laws framed by men and with a judicial system that judges feminine conduct from a masculine point of view. (from the Introduction in Six Plays by Henrik Ibsen, introduction by Eva Le Gallienne)
Ibsen experienced much criticism for his work because he was bold enough to bring to light the unbalance of society, the oppression he witnessed, and his need to offer another way. Some theaters/directors changed the ending of the play, especially in translations, notably German and Italian, so they'd be more comfortable. Ibsen was outraged calling it an "act of violence" against his work. He is noted as saying, "I may almost say it was for the sake of the last scene that the whole play was written." Privileged people, like Torvald Helmer (Nora's controlling husband), don't easily give up their position of power.
This is a tough script in many ways. The language is difficult, a translation from Norwegian, with long passages that don't have the crisp edge of today's vernacular. Students age 14-19 performed this play whose theme is marriage, what it is and what it is not, controlling spouses, a society that doesn't allow women to make decisions, let alone take out a loan and pay it off with her own earnings, and it's about a woman finding her voice. These students did an excellent job with the subject matter. Chloe Severson played Nora with skill and compassion. She understands this character, how she pretends to be the doll, the little song bird, that her husband wants, and she knows how to get what she needs by using her skills, and creativity. She comes to realize what a ruse her life has been.
I like this play. Although, I was a little hesitant to go to this performance on a beautiful summer night in the Brainerd lakes area, I wanted to support the high school theater department, and I wanted to see this play come to life. I was glad I went. At a pivotal moment in the play when Nora exclaims, "I believe that before all else, I am a human being," a young lady near the front pulled in her fist and whispered, "Yes!" I got goosebumps, and I applauded the director Karla Johnson for producing this play and all the students who were involved. This play needs to be read, seen, and experienced by everyone, especially young people, as they're examining their relationships. I know what it's like to be a Nora, and how it feels to gain control of your own life. We all deserve to be a human being first and foremost, not anyone's dolls, property, or twisted extension of someone else's beliefs. 
Well done, Brainerd high school, and director Karla Johnson. Thank you for all you're doing to provide theater experiences for the kids and this community.
Go. Create. Inspire!
Journaling Prompt: Where have you witnessed controlling relationships? When do you feel empowered?