Quote of the Day: Exercise your creative muscle all the time, either through classes or through other artistic avenues like painting or dancing or even gardening, staying active and being creative so that when opportunities do come up, you are in a position to take advantage of them. Tom Irwin, American Actor
My writer friend Roxane, Peace Garden Writer, and I have been doing the Word for the Year since 2008. Words that have guided me through the years are Courage, Healing, Rhythm, Embrace, Open, Create, Fun & Prosper, and Evolve for 2016. Evolve was a great word. I imagine that is more of a lifetime word. Our lives are constantly evolving. My boys are leaving the nest and finding their own paths. When they were young, I knew what my role was as their mother. Now, I'm not as sure. What do they need from me, now?
As I looked at the New Year, 2017, the word that came to mind was Flexible, and the derivatives thereof, Flex, flexing. I need to be flexible when it comes to being with my boys, planning, or not planning. That's a hard one. We need to make plans, and yet, it is also good to be free enough to do something spontaneous, or be available when something comes up. 
2017 is also a good year to flex my creative muscle. I'd like to do another show. I have some ideas and need to work on them, allowing some flexibility in timing and location. I hope to be writing more about flexing my creative talents and doing something memorable.
My friend Sheila has a book review blog called Book Journey. At the beginning of the year she posts a collage of pictures that people send her of the First Book of the Year. It's fun to see what people are reading to start their new year. I sent her my picture. I couldn't do just one, so I included three books in my picture.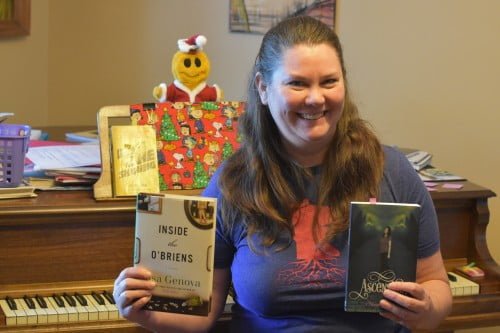 Technically, I just finished reading Inside the O'Briens by Lisa Genova. I loved it. I gave it five stars on my Goodreads review. If you liked Still Alice, you'll love Inside the O'Briens, about a family whose father is diagnosed with Huntington's Disease and all the motions and emotions they go through. I read it fairly quickly even with all that happens during the holidays. I'm going to start Ascension by Hannah Rials next. And, behind my shoulder is The Shining by Stephen King. I don't read horror, but I want to give this one a try. It was recently made into an opera! I missed the performance, but hope they do it again soon near me. It must have a compelling story. I've never watched the movie. It might be too much for my sensitivities, but I'm willing to flex my reading muscle, too. Plus, I have Mr. Happy back there to keep things sunny.
Happy New Year to all of you. I'm looking forward to being more flexible in 2017. How about you?
Go. Create. Inspire!
Journaling prompt: What are you reading to start off the new year? How have you been flexible?