Quote of the Day: I loved being in the studio. That's where you could really paint your picture. Bobby Vee in a 2011 interview found in the documentary I'll include below. The Bobby Vee Story playing at the MN History Theatre in St. Paul is a heartfelt glimpse at the 1960's pop idol. "He was more than just a teen idol," his son Jeff said in the discussion after the play. His Midwestern "boy next door" wasn't an act. He truly cared about the people in his life. He loved making music, and his songs live on in our musical, Midwestern, and American culture.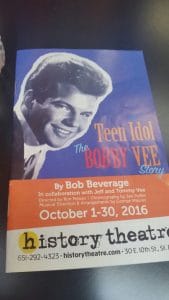 What gives this play with music added authenticity is that it is a collaboration with Ron Peluso, Artistic Director of the MN History Theatre, playwright Bob Beverage, and Bobby's sons Jeff and Tommy Vee. They took great care in creating a story about their father, his courtship with their mother Karen Bergen (who hails from Detroit Lakes, MN), and Bobby's relationship with other stars at the time.
We travel with Bobby on the Dick Clark tours through the South. The bus traveling at night "so we don't have to check into separate hotels" because they were touring with Little Anthony & the Imperials, The Shirelles, The Ronettes, and Dion & the Belmonts. One scene that stands out was when they stopped at a bed & breakfast (I think) and the owner was overwhelmed by how many people showed up for breakfast. She was about to turn them away, but Dick Clark handed her some cash and said that they could make their own food. "We're all musicians. We have thousands of hours of restaurant experience!" Of course, there is the white bigot who won't have anything to do with Little Anthony, not even caring that he's a famous recording artist and was willing to serve him his eggs. Despite the prejudices of the times, and the minimal pay for the artists, the musicians enjoyed touring and making music together. Jeff said, "They are still family friends."
Bobby Vee was thrust into stardom when he was just a 15-year-old boy  living in Fargo, ND. It was February 3, 1959,
the "Day the Music Died" when the plane carrying singers Buddy Holly, Ritchie Valens, and the Big Bopper went down in a cornfield in Iowa. They were scheduled to play at the Winter Dance Party in Moorhead, MN. Bobby's older brother Bill heard the call for acts to fill in on the radio. The boys decided to go for it. Bobby was the only one who could sing. They didn't even have a name for their band, but they went on anyway calling themselves "The Shadows," and the rest is history.
Bobby went on to a career in music with 38 top 100 hits, 7 gold records, and a fan base that loves him still today, many of whom were in the audience last Sunday. Three of Karen's roommates from college were there, sporting sweatshirts that read "Bobby Vee for President." People wanted to share their stories about Bobby Vee, his music, and their concert experiences with his son Jeff who was moderating the discussion after the show. They fell in love with, and to, his music. "I met my husband at your dad's concert," one woman exclaimed. They asked how Bobby is doing and if he was able to see any of the performances at the History Theatre. Sadly, no. His Alzheimer's disease is preventing him from attending. Our hearts are breaking for Jeff and his family. They lost their mom, Karen, to lung disease in 2015. Jeff said that they were working on this script while they were living through those difficult times with their parents. 
The Bobby Vee Story is a beautiful show, full of heart and local talent. Tyler Michaels plays Bobby Vee with that same sparkle you see in clips of the pop star. The whole cast is lively and strong in all the varied roles that they play. Peyton Dixon, who plays Eddie and Bobby Freeman, said that the can feel the energy of the crowd while they're performing, "We can even hear you singing along," he said. So many people in the audience feel a connection to Bobby Vee, maybe they met him in person, attended one of his concerts, played his records until the grooves wore thin, or simply enjoy music from his era. I brought my teenage boys, and they loved the show. They see with new eyes the power of music, what a varied history we all have, and what can happen in a lifetime.
I wish all the best to the Bobby Vee family. You are going through very difficult times. Know that you are loved and lifted up. Your family's story lives on through the songs and the memories, and now as it is played out on stage for us all to experience.
You can see Teen Idol: The Bobby Vee Story at the History Theatre in St. Paul, MN through October 30, 2016. Many shows are selling out. I hope they bring this story back in the near future. You can learn more about Bobby Vee at his website. 
Go. Create. Inspire!
Journaling Prompt: What songs did you fall in love to?