On Tuesday, August 9, 2016, Day #4 of our Wild West Tour, we woke up refreshed from the long, hot day that was Day #3. The Comfort Inn and Suites in Greeley, CO is very nice. The bed is comfortable. I enjoyed watching the Olympics, and the Biker Chef had a good snore going. The breakfast spread was wonderful. They even had good oatmeal, lots of fresh fruit, various breads, and the usual make your own waffle station. I grabbed a couple apples out of the bowl and added them to our cooler. Before meeting up with the rest of the crew, we stopped to buy more snacks. I picked out a few cheese sticks and a couple kinds of granola bars. I wasn't going to be caught out on the road again without something to eat! Also, we bought a gallon jug of water to keep in the tour pack. The ride that day was much more pleasant, through the Rocky Mountain National Forest, Estes Park, and on to Craig, CO.
Right after this picture was taken, the clouds came in, and the sky got grayer. We rode through some sleet, and I was longing for my chaps. We stopped at a rest area/scenic overlook to gear up and snap a few pictures.
I'm fully geared up here in leathers. I didn't put on my rain gear because we could see that the rain and sleet were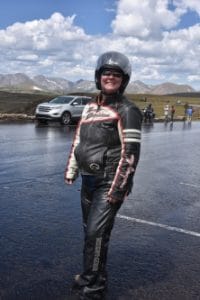 only in the upper part of the Rockies, and we'd be driving out of it. In fact, once we got lower, it was warmer and our pants dried quickly. I told the Chef to take a picture of me in full gear.
I'll take a moment here to sing the praises of my helmet. The Chef got me a new one this year, and I really like it. It has a three-quarters face shield which helps ward off the bugs and some of the wind. It has good vents, is lighter weight than my old one, and doesn't have any pressure points. I am 100% happy with it. And, as the sleet was pelting down, I was grateful to have it on, protecting my head. I worry a little about the Biker Chef and wonder how well he can see when it's raining.
We stopped in Estes Park, CO, where Brandon and Chileen went their own way. We forged on through more mountainous heights and did the overnight in Craig, CO. We were all tired, so we ordered in pizza and pasta and hit the hay early. I did some journaling and watched the Olympics. That Katie Ledecky is also a pretty good swimmer. The gymnastics events were also happening, and all I can say is "Wow." Just "Wow." 
Greeley, CO – Craig, CO, via the Rocky Mountain National Forest = 230 gorgeous miles.