As I was going through the over 1000 photos/video I took on our trip, I realized that I missed the entire second half of our ride on Day #4, Tuesday, August 9, 2016. We were in the Rocky Mountain National Park for most of the day. I like this shot of the curvy roads.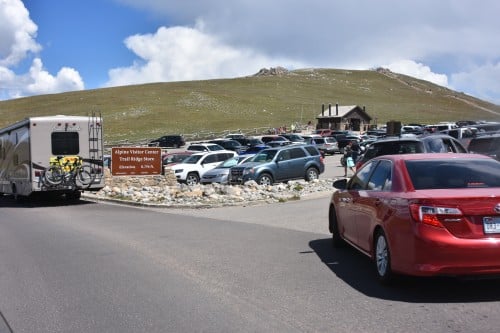 On our way through a valley, we saw a mama moose and her calf. I had to take most of my pictures from the back of the bike (remember, Bearded Biker/Road Captain doesn't like to stop). However, the Biker Chef would slow down if he saw something of interest. We both spotted the moose, so I snapped a couple quick pics.
We did stop to snap a picture at the Milner Pass, Continental Divide. I picked up a couple postcards of this and wanted a shot of Biker Chef and me in front of the sign. I handed my camera to a friendly woman, and she got a couple nice shots. 
Everyone was pretty well geared up here, but it got warmer when we rode through the valley to Craig, CO.
We only rode about 230 miles this day because of the winding roads, up and over mountains, and some actual stops along the way. It really was a wonderful ride. I was at a 1-2 all day, except for the sleet, but we stopped to gear up fairly quickly, so even then I barely hit a 3. We're almost halfway through our trip at this point.