The Biker Chef and I took our annual trip out West during the Sturgis Motorcycle Rally, also called "Bike Week" in the Hills and Western part of the USA. We spent just four hours in the town of Sturgis, SD, long enough to get our rally patches from the Jackpine Gypsies, eat a hamburger at the VFW, and meet up with our friends. Then, we were on to our Wild West Tour. We rode almost 3000 miles and saw so many beautiful sights. I'll write about the adventure in a series of posts.
I spend many miles on the back of the bike, imagining things, writing stories in my head, sorting out life's events, and assessing how I feel. I started rating the situation on a scale from 1 to 9, 1 being "I feel great. I'm happy. I'm excited. I'm comfortable. This is going to be a great day." Once I hit 9, I'm crumbling, often too hot, sore, in need of a circulation break, a good stretch, and food. Past 9, I've hit Miserable. Anything beyond that I'm thinking, "Why did I come on this trip?" and I start fantasizing about being at home, sitting on my comfy couch and eating ice cream.
Day #1, We started out the day by riding to my parents' farm for a family gathering there. All of my siblings (6 of us) were there together with our parents. As a whole, we're not typically a silly sort. We eat. We Talk. We play board games, sometimes. And, at Christmas, we open a mountain of gifts. For this gathering, to add some levity, we decided to have an Ugly Shirt Contest. As each family member arrived for the party, they were greeted with smiles and "Oh, look at your shirt!" comments. We laughed about our choices and talked about what defines an "ugly shirt." It is in the eye of the beholder/wearer. I wanted another category for a prize. I wore a shirt that was more cute than ugly, signed by the students in my summer theatre classes. (It's all I had. Others went to Thrift stores to find their finery/funery.) So, we also voted on the "Best Presentation." We all came down the ramp to our own beat, showed off the shirt, mugged for the cameras, then voted. My oldest brother Nathan won in both categories!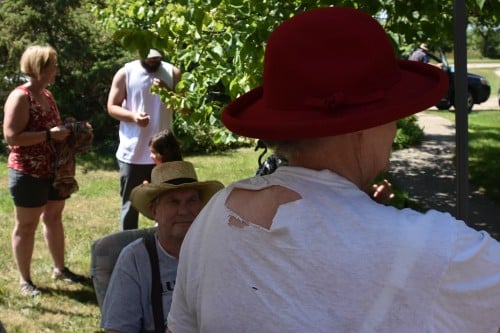 I have more pictures from the day, as well as video of the Ugly Shirt Presentation. I'll post those on our private family FB page. I don't want to bore the rest of you with "home movies." Starting off the trip with a stop at the farm and time with family was the cake and the ice cream. Mom and Dad are renting an apartment in town "for the winter," which is good, but sad, too. We treasure all the time we can spend with each other.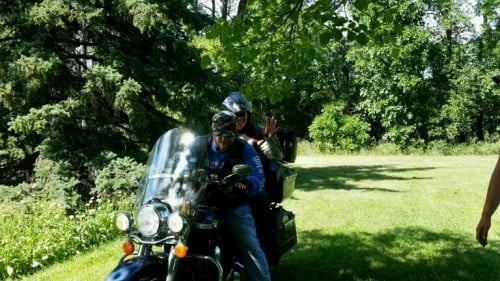 Around 3:30, the Biker Chef and I geared up and headed West. We made it all the way to Dickinson, ND, where we stayed at a very nice Best Western, and had a delicious meal at the El Sombrero Mexican restaurant. 
Baxter, MN – Ada, MN = 167 miles
Ada, MN – Dickinson, ND = 333 miles
Day #1 Total Miles = 500 Miles (Reminds me of a song. Thankfully, we didn't walk it!)
I was at a 1-2 all day, maybe getting to a 3 by the time we stopped in Dickinson, but really, it was such a good day. I was grateful to have the time with family. We delayed our Westward tour so we could be at the farm on Saturday, and everything worked out well, for the entire trip. Come back for more posts! We rode through the Rocky Mountains this year, as well as Yellowstone, had grand adventures, and enjoyed a quiet, little mining town.
Go. Create. Inspire! And, Jump on the Bike!