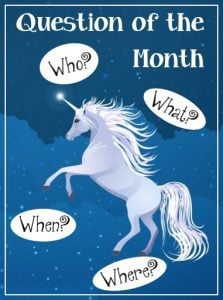 The Question of the Month: What is your favorite beach read? What makes a great beach read? Or, What is your favorite beach? These beach read questions come from Michael D'Agostino from A Life Examined. On the first Monday of each month he poses a question for those of us participating in this blog hop. To find a list of participants, or to join, visit his blog. I'm going to answer this by showcasing three books that I've read at a beach, one of my favorite things to do. Toes in sand, book in hand!
I had intended to schedule this post over the weekend so it would be ready to read early this morning, but I got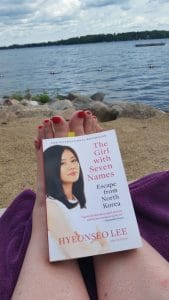 caught up in this book, The Girl With Seven Names by Nyeonseo Lee. I started reading it last week, and brought it to one of my favorite beaches. I have spent the most time at the beach at Mount Carmel on Lake Carlos, one of the over 10,000 lakes of Minnesota. I have been going there since I was a little kid with my family, building sand castles and trenches, playing in the water, swimming to the floating raft. I brought my kids, and they grew up doing the same things. The older they got, the more time I could spend reading, unless I was chatting with family or new friends.
Last year, I was reading Candace Simar's Shelterbelts on this same beach. It is the story of a Scandinavian-American farming community in Minnesota. All the characters feel like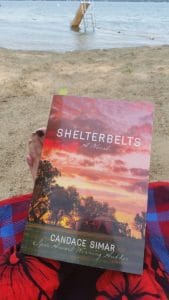 neighbors, or relatives. I grew up in a similar community. This book feels like its my own history. If I knew I was going to be stranded on an island, this is one of the books I would take with me.
Another book I would take with me to the island is The Magic Strings of Frankie Presto by Mitch Albom. In fact, I did take it to the Islands of Hawaii. I spent much of my beach time in Kauai reading this book. The narrator is Music and how it was with Frankie throughout his life, and the times when a string of his guitar would glow with the magic he produces through his spirit of Music. It is a beautiful book. One of my boys gave it to me for Christmas, and I hope all my boys read it some day.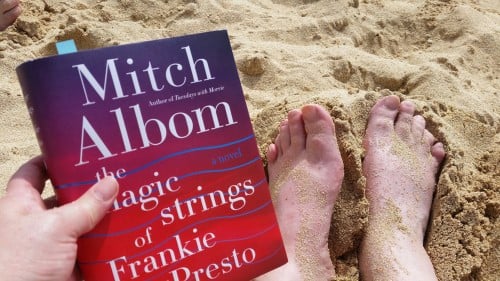 Great question, Michael! Here's to more hours of sun, sand, books and beaches!
Go. Create. Inspire!
Journaling Prompt: What are you reading right now? What books would you bring to the island? Where is your favorite beach?