Quote of the Day: You need some life experiences to be a good writer. Faith Sullivan, who was in her mid-40's when she had her first book published. 
Faith Sullivan, author of eight novels, numerous essays, and winner of the Midwest Book Award for her most recent book Good Night, Mr. Wodehouse, visited the Brainerd Public Library on Monday, July 18, 2016, as part of the library's Brown Bag Series. Each Monday in the summer, the library hosts a regional author at noon. You are welcome to bring a lunch, or enjoy the light snacks provided, or simply come to listen to the authors talk about their craft. (You can see the complete list by clicking the library link above.) 
Faith Sullivan was delightful. She shared several nuggets of wisdom that we quickly devoured in between readings from her books and quips about her kids who all followed in the business. To which Faith says, "Couldn't one of them have been a plumber!" followed by much laughter. The nut truly does not fall far from the tree.  Faith's journey to publication is a bit of a fairy tale. Although, she didn't even know she was a writer until she was almost 40 years old, her publishing success truly happened "over night." Her husband, a drama critic, was writing for the LA Times when she completed her first novel. He was planning a trip to NYC where he'd be meeting with his editor. He brought his wife's novel along and gave it to the editor saying, "It's a humorous novel." That was on Friday. On Monday morning, Faith received a phone call. "This will never happen to you again," said the editor, "We want to publish your novel." Turns out, they were in need of a humorous novel to complete their list for the next round of publications. Then, the whirlwind of learning how to be a professional author began. Faith said that when she got her manuscript back, she quickly burst in to tears looking at all the editing comments, black slashes through her precious words, and requests for rewrites. But, rewrite she did, then went on to write and publish more books.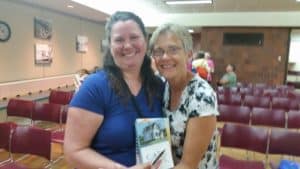 I bought her book, The Cape Ann. I haven't started it, so I can't give you any kind of review except to say that the book club that I recently joined read it (before I joined) and loved it. It's set during the depression in Minnesota. Some of the characters from that book reappear in another book, Gardenias, not a sequel, more of a spin-off. Faith says that she likes to write characters in different roles in her various books because it gives her a chance to show how complex we really are. "We are a different person to almost everyone we know," says Faith. "We are all multi-faced." And, that's what she brings out in her stories.
It was a true delight to meet this great author. She is kind and generous, has a great smile, and a supportive attitude. Local author Candace Simar says that Faith Sullivan inspired her to write her stories and have them published, to much success. Candace is the author of Shelter Belts (one of my all time favorite books) and the Abercrombie Trail Series. 
Go. Create. Inspire!
And, don't forget about the library's annual fundraiser event, which includes five guest authors, Wine and Words, August 11, 2016 at Grand View Lodge.
Journaling Prompt: Think about how you might be a different person to various people in your life.