Quote of the Day: Some people read sci-fi/fantasy to escape into another world. For me, I do that with Historical Fiction. Ann Treacy, author of The Search for the Homestead Treasure. I've also heard the past described as a foreign country.
In Ann Treacy's debut novel, The Search for the Homestead Treasure, Martin Gunnarsson is not a farm boy, but he sure is working hard on the old family farm. He's not quite a man, at age 14, but he's now the man of the house with his father away. He wasn't even born the oldest son, but now he is since his brother's fatal accident. He'd rather be back in Stillwater, in town, with his friends, and his old life, the one where they were all together and his brother was still alive. But, he's not. Now, he has to do the work of a grown man even though he is just a boy in search of a treasure, in need of a friend, and desperate for a stronger family. 
Ann Treacy's Midwest farm novel has many similar elements to the Little House of the Prairie series by Laura Ingalls Wilder, only now we have the boy's perspective. She also adds characters who are Gypsy-Americans, who rarely appear in fiction or non-fiction. I'll admit, I thought the Gypsies were only in Europe, but that's not true. They also immigrated to the United States, just like every other ethnic group, and found their way through the Midwest. They were a feared and hated group of nomads. Most people thought they were thieves and trouble-makers. If something went wrong in a community, Gypsies were often blamed. When people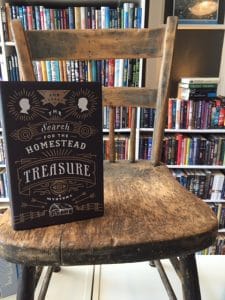 heard that the Gypsies were nearby, they were afraid that they'd be robbed. Ann says that she brings an old "Gypsy" chair with her on book signings. This chair was set on the front porch of a farmstead where the family might tie a chicken, or leave other items or food for the wandering group. She grew up hearing stories about Gypsies, many derogatory, and thought that was unfair. Her writer's mind started to ask the question, "What if?" What if someone actually got to know a person who was a Gypsy? What if that person became his friend? In that wondering, Martin and his friend Samson were born. Her novel is the result. 
Ann and I have our own history. We met at a writer's workshop about 20 years ago. The workshop was part of the Split Rock workshops for the arts. I believe it was organized by the University of Minnesota. They no longer offer these workshops. It was like summer camp for writers. Most of us stayed in the dorms of St. Scholastica. We met in a classroom, had lunch together in the cafeteria, and went out for dinner or outings in the evenings. Everyone had at least the start of a novel that we all read and helped critique during the workshop which was lead by Minnesota author Will Weaver. On our final evening, we had dinner at Ann's house because she lived in Duluth. 
I have had a blast catching up with Ann after all these years and to see the success she found in this novel. She had started it at the time of the workshop, then went through many revisions, sought out a publisher, and ended up at the University of Minnesota Press, working with editor Erik Anderson. She says that it takes hard work, perseverance, and believing in yourself and your story to finally find that sweet spot of success. I am so happy for Ann and adore her novel. You learn even more about early farm life in Minnesota and the people who toiled and fought for survival.
I hope to read more of Ann's books in the future as she continues to write more books. And, the next time I'm in Duluth, Ann, I'll let you know so we can have coffee, reminisce, and make new memories!
You can learn more about Ann Treacy, her writing journey, and her books at her website. Also, here is the link to her book on the U of MN Press website. You can find The Search for the Homestead Treasure online, including a Kindle edition, and at bookstores everywhere. Support your local bookstores!
Go. Create. Inspire!
Journaling Prompt: Do you have a family heirloom? What is it, and the story behind it?