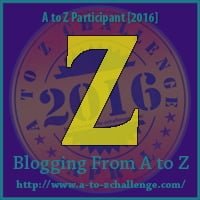 We are at the end of April and the end of the alphabet. It's been a marathon. I've enjoyed all the visiting and comments. I read daily posts from other bloggers. I've been able to share some pictures and stories. Now, I can relax a little and do a little more reading, writing, walking, listening to podcasts, and zen tangle art. I started doing these after I attended a women's retreat where the artist showed us how to do them. A couple years later, adult coloring books showed up in stores. I'm not drawn to the printed pictures. I enjoy making my own and filling them in. It's another form of creating, thinking, meditating, using color, and keeping my mind open and fluid. We learned a free form of this art, placing four dots on the page and connected them with loopy lines, then filling them in. I've been doing some that are a little more concrete, and I've gotten a few ideas from Pinterest.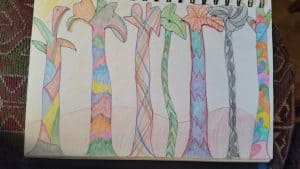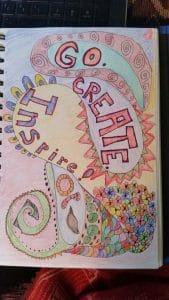 Enjoy May, and spring time, or whatever season you're in!
Journaling Prompt: Have you ever tried Zen Tangles? Do you like the adult coloring books? Where is your favorite place to walk or create?