Whew! What a month of creative energy. This Blogging from A to Z challenge is great. I'm glad I participated. I am also glad that next month I can relax a little on the posting. I might even get to some other writing! Like working on my play. Also, I've been teaching a theatre workshop for kids in the Brainerd area for the past seven weeks. I had an elementary age group, grades 1-4, and a middle school group, grades 5-8. We had a performance of our workshop last night. The kids were wonderful. I just sat there and let them do their thing. I was on the edge of my seat, focused on them and what new lines might pop up, but I trusted them to do their show to the best of their ability with the limited time we had together, and they soared!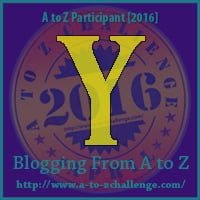 Youth Theatre is very important. I was in a meeting with the Patrick, director of the college theatre program. He was asking how to create more involvement in the theatre, which is a community theatre, but some people might think it's just for the college students. I said that we needed to have programs for kids. The reason so many people attend football games is because they have a connection to the game. Many people played as kids. They have a feeder program. We need to get kids involved. Also, Patrick said that he gets calls every week wondering if he has anything to offer for kids to get experience in the performing arts. I said I'd like to teach workshops. Since I started them two years ago, each one has grown and evolved. The kids have a chance to develop their own characters and write an original script. They learn the process of creating. Imagine 20 young people in a room, all with big ideas, creative spirits, and a love of stories. Now, imagine them pooling all those ideas together and working as a team to bring those stories to life. That's what happens in Play off the Page Theatre Workshops. It is a unique experience, and so fun to watch it evolve.  Here are a few shots from our performances.
We were so caught up in setting our stage and performing, that I missed taking a group shot of the Middle School group. They were so amazing. They were in three groups. Each group came up with a complicated plot, interesting and varied characters. Several of them played more than one part. They changed in and out of costumes, and ad-libbed at moments. They handled themselves very well during the performance. I am so proud of all of them!
You can see more photos on my Play off the Page Facebook page. We'll be offering more classes this summer. June 13-17, theatre workshops for kids in grades 1-4, 9:00-11:00, and for middle school students from noon-2:00. The week of June 20-24, will be a writing class for students in grades 5-12. Please call 218-855-8199 to register. $20 per student.
Thanks, everyone, who supports creative arts for youth!
Go. Create. Inspire!
Journaling Prompt: If you were in a play called "Fairy Tales and Medieval Times" what character would you be?