I am participating in the Blogging from A to Z Challenge. My theme is open-ended. My goal is to write daily posts using each letter of the alphabet in April (Sundays off for good behavior and to make it work for the alphabet). I'll be writing family stories, memoir or journal prompts, reviews about theatre and food, maybe a visit from my sock puppet characters Millie and Willie, and using photos I've taken along the way. Enjoy!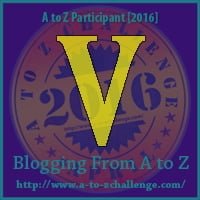 Vog is like fog but with volcanic ash. We experienced this when we were on the Big Island of Hawaii during our vacation in January. We were only on the Big Island for two days. We spent most of our time on Kauai, but wanted to see the Big Island. It was way too short of a time, but we did get to a few things. 
This one's for you, Juneta. Thanks for all your visiting and comments during the challenge!
We had just landed on the Big Island from Kauai on Friday afternoon and were eating a late lunch, poolside, at our hotel. My brother called. Here's the funny thing. We had planned our trips to the Hawaiian Islands, not knowing the other was going. It turned out that we were on the Big Island at the same time. Not only that, our hotel was right next to the place they were staying. So, I answered the call and he asked if we wanted to ride up to the Mauna Kea Summit with him and his wife. I said, "Sure!" Sometimes, you just have to "jump on the bus." My brother Phil picked us up and we drove straight to the top. In hindsight, that might not have been the best choice. We had just filled our bellies with burgers and beer. We felt a little funny when we got up there, more than a little of that uncomfortable, bloated feeling, and a little light headed. I read in their brochure, on the way back down, that it is highly recommended that you stop and spend a little time at the visitor's center, at 9,200 feet elevation to adjust to the altitude change. Once at the top you're at 14,000 feet. You literally go from sea level to 14,000 feet, and we drove straight up there. And, it's cold up there! But, the landscape looked like we could have been on the moon. I took a bunch of pictures, and we watched the sun set into the clouds and vog. Here are a few pictures.
Thanks, Phil and Sandy, for inviting us on the ride. It was a unique and spectacular experience. 
Go. Create. Inspire!
Journaling Prompt: What's the most unique sunset, or view, you've seen?