I am participating in the Blogging from A to Z Challenge. My theme is open-ended. My goal is to write daily posts using each letter of the alphabet in April (Sundays off for good behavior and to make it work for the alphabet). I'll be writing family stories, memoir or journal prompts, reviews about theatre and food, maybe a visit from my sock puppet characters Millie and Willie, and using photos I've taken along the way. Enjoy!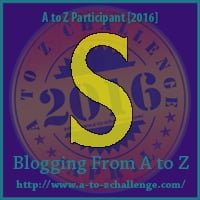 What do you say about a show that's been around since 1975. If you've seen it and loved you, you've been quoting it since your first watching. You might even be quoting it and not fully aware of it. Now, I know where the "You've got the word," game comes from. I'll admit, I've never seen the film, or a production of it. So, it was a fun time watching it last night at the Central Lakes College Community Performing Arts Center in Brainerd, MN. Patrick Spradlin directs a great theatre program at the college that is NOT just for college students, it's truly community theatre. He also graciously supports my theatre workshops for kids in the area. We had our last class/rehearsal and will perform for family and friends next Thursday at 5:30 (elementary group) and 6:30 (middle school).
Spamalot calls for a fairly large cast. I counted 24 with 8-10 guys on stage most of the time. You have King Arthur (Michael Sander), his Patsy (Charlie Johnson), Lancelot (Shane Keran), Sir Robin (Eric Boyles), Sir Bedevere (Jesse Brutscher), Sir Galahad (Travis Chaput), various other knights and peasants, The Lady of the Lake (Sadie Wunder, who was wonderful!), and a chorus of female singers and dancers. The main parts go to the guys, except for a few funny parts and songs for the Lady of the Lake, including one with the line, "I've been backstage too long." The show is filled with sight gags, exaggerated characters, and lots of body humor. The show pokes fun at itself and every other musical ever made. The number "You won't succeed on Broadway without a Jew" is particularly funny. The costumes are elaborate. The set is busy! They had many movable parts, being pulled in and out, sometimes with characters riding on them. That alone takes much practice and careful direction. I know the set designers and builders worked very hard! The dance moves are always a challenge in community theatre since most people don't have any dance background, but Stephanie White and Paul Mathieu gave the cast moves that fit their abilities and were fun to watch. Picture your local businessmen in tights and tap shoes carrying yellow umbrellas tapping and twirling and having a blast doing it!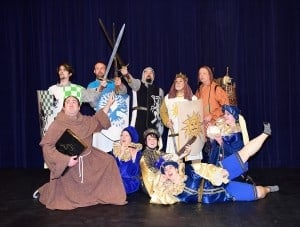 If you're in the Brainerd area, you have a couple more chances to see this production, Friday and Saturday at 7:30. Call the box office 218-855-8199, or come early and buy a ticket. You can read more about the show and all the talented people involved in this article. 
Also playing in the Brainerd area this month is A Midsummer Night's Dream on Stage North at the Franklin Arts Center, Friday, 4/22, at 7:30, and Saturday, 4/23, at 2:00 and 7:30. And, Guys and Dolls, the first high school musical done at BHS in about 50 years is playing next weekend. My boy  is play Nicely Nicely Johnson! I am so thrilled. They will be performing on the Tornstrom stage, April 28, 29, and 30, 7:30. You can buy your tickets at the door.
Go. Create. Inspire!
Journaling Prompt: Have you seen Spamalot? Is it a favorite? Do you quote lines from movies and shows? What are some of your favorites?