I am participating in the Blogging from A to Z Challenge. My theme is open-ended. My goal is to write daily posts using each letter of the alphabet in April (Sundays off for good behavior and to make it work for the alphabet). I'll be writing family stories, memoir or journal prompts, reviews about theatre and food, maybe a visit from my sock puppet characters Millie and Willie, and using photos I've taken along the way. Enjoy!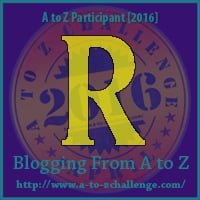 I've been part of a church group called Faithful Mothers for many years. This year, a couple of the women talked about having a desire to write down family stories. We started with our names (see A post), and our role in our families (I'm the accompanist). One popular topic was favorite family recipes. I'll post the pictures of the recipe card I pull out whenever I want to make escalloped corn. It is a huge favorite. My mom makes great escalloped corn. My twin sons, Charlie and Eric, especially love it. When I made it for a holiday meal, I noticed how much they ate, the whole thing! I mentioned it, and Charlie replied, "At Grandma's house I go smaller because I know other people want some, too." At home, they scraped the bottom of the casserole dish!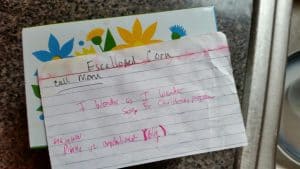 One Thanksgiving, several years ago, I asked mom for the recipe for Escalloped Corn. She and my sister Nancy started shouting out ingredients and directions, and talking about more kitchen tips than I could keep up with, so I simpl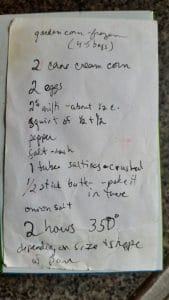 y wrote the above directions on my card, "Call Mom." I finally got them to speak a little slower, and took hurried notes.
Here's the back side of the card.
The list of ingredients is fairly easy to follow, except for the first one, the corn. Mom uses her own canned corn, so when she says 4-5 freezer bags of corn, she means her size freezer bags. I just estimate, and it usually turns out fine. Does your family recipe have directions like "until it looks right, a squirt of 1/2 & 1/2, and just poke it in there?" I still call mom whenever I make any of her recipes. I tried taking pictures of her making potato dumplings and lefse. I'm sure I'll still not get it to turn out the way she does. 
Go. Create. Inspire!
Journaling Prompt: What's a favorite family recipe? Can you make it taste the same as the one who started it? i.e. your grandma's lefse.