I am participating in the Blogging from A to Z Challenge. My theme is open-ended. My goal is to write daily posts using each letter of the alphabet in April (Sundays off for good behavior and to make it work for the alphabet). I'll be writing family stories, memoir or journal prompts, reviews about theatre and food, maybe a visit from my sock puppet characters Millie and Willie, and using photos I've taken along the way. Enjoy!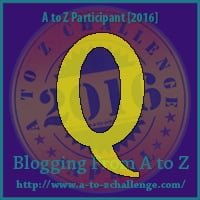 My guest today is Krista Rolfzen Soukup, owner of Blue Cottage Agency. She is a book consultant and publicist. She recently attended a workshop on writing query letters by Laura Zats, from Red Sofa Literary. Take it away, Krista.
Quote of the Day: "Above all, a query letter is a sales pitch and it is the single most important page an unpublished writer will ever write. It's the first impression and will either open the door or close it. It's that important, so don't mess it up. Mine took 17 drafts and two weeks to write." ~Nicholas Sparks
The Brainerd Library recently hosted a Skype presentation on Writing a Query Letter by Laura Zats, a literary agent  from Red Sofa Literary.  Laura and I connected as co-presenters at the Novel in Progress Book Camp last May.  
I took advantage of my windshield time with Laura on our drive to Eastern Wisconsin. This Grinnell graduate knows publishing. I suggested her to the Brainerd Public Library knowing that the talented group of writers we have in our region could benefit from her knowledge.
Laura's visit with the group emphasized some key points:
DO YOUR HOMEWORK. If there was one strong message of the session, it's this. Research agents to find the best fit for your project. Most queries are turned down not because the book is horrible, it's because it didn't fit the agent or the publisher. You are better off selecting a handful of contacts that fit your project as opposed to blindly sending out loads of queries.  Read and follow the procedure that each agency/publisher is requiring.
BE CREATIVE IN FINDING AN AGENT/PUBLISHER. Reference books like JEFF HERMAN'S Guide to Book Publishers, Editors, and Literary Agents can offer some good resources, but may not be always up to date. Visit agency/publisher websites for more accurate submission guidelines, check out social media where agents post what they are looking for, attend book conferences to meet and learn about specific agents and publishers.
KNOW YOU WILL BE REJECTED. MANY TIMES. It's part of the gig. It's the way it is. Period. Again, it may not be because your project is not good, it is because it isn't the right fit at the right time. Don't be discouraged. Persevere.
WRITE A GOOD QUERY. No, rather write an EXCEPTIONAL query. Never send  a letter as an attachment. It's an automatic delete. (And trust me, I shared a room with her at our Wisconsin conference and watched her delete tons of email queries with attachments that won't be opened for fear of a virus.) Word count no less than 250 words, no more than 500.
Include 4 parts:
Meta data: Genre, word count, title
Pitch line: Grab the agent's attention
Plot line: This is a snap shot, Not a synopsis. Do NOT give away the ending. Show, not tell.
Bio: Make it brief, include mention of workshops attended
ABOVE ALL, (for the love of books) WRITE AN EXCEPTIONAL BOOK. Believe in your story and put your ALL into it. Tap into the resources around you, writer's groups, editors, arts councils, workshops, conferences. Know your craft. Publishing takes time, be patient and Keep writing! The world will always need good stories.
Thank you Krista, and Laura. My foremost take-away from this is "Keep writing! The world will always need good stories." 
Go. Create. Inspire!
Journaling Prompt: Do you have a good query letter, or good query letter advice? Have you ever had the chance to visit with an agent or editor?