I am participating in the Blogging from A to Z Challenge. My theme is open-ended. My goal is to write daily posts using each letter of the alphabet in April (Sundays off for good behavior and to make it work for the alphabet). I'll be writing family stories, memoir or journal prompts, reviews about theatre and food, maybe a visit from my sock puppet characters Millie and Willie, and using photos I've taken along the way. Enjoy!
P is for Play and a guest Post by Peyton, the sister to Parker who wrote about June bugs on J day. They are both Piano students and have been in my writing and theatre classes. Peyton's a great Pianist, and loves to be in Plays. She also sings, dances, and is a wonderful big sister to Phoebe, and soon a new baby brother. Take it away, Peyton!
Have you ever been able to experience the excitement of a play? Watching up to 30 people do an act that they practiced for months, and showing it to the world? Well I have and I'm about to tell all about the experience. I am a part of A Midsummer Night's Dream, which will be performed on April 21st, April 22nd, and April 23rd.
Although there are mostly speaking parts, there are many more roles to be played. That is where I come in. I am part of the chorus for this play. Instead of speaking, I dance. The role I play is a Woodland Fairy. My part might not be as important as a character with a speaking part, but it is still a very big part in the play.
Being part of this play is more than just time consuming, it's fun! Dancing in front of all those people, showing them what you can do! I find that very important. This is also the best place to find new friends. Two years ago I was in a play here, and I met my best friend. You see this theatre brings friendship. Now I have four more friend that I met in this play! And we all share one thing in common, we love acting.    
I'll tell a little bit about my experience as an actor. This is not my first play, however. In fact, this is my third play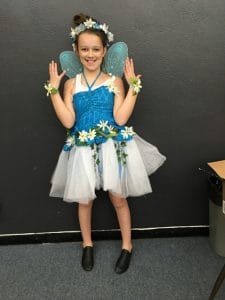 working with the Stage North Theatre Company. I was in A Christmas Carol two years ago during Christmas.  For that play, I sang in the choir. It's A Wonderful Life was the second one, last year at Christmas time, also, and once again I sang in the choir.
So now you might see how much time we put into this play. You still have time! Buy a ticket and come see it! Or maybe next time you can be in it!   
Thank you, Peyton. I'll be there cheering you and all the actors on! If you're in the Brainerd lakes area April 21, 22, or 23, check out Stage North's production of A Midsummer Night's Dream.
Go. Create. Inspire!
Journaling Prompt: Have you ever been in a play or part of a theatrical production? Do you want to have awesome fairy wings like Peyton? Me, too.