I am participating in the Blogging from A to Z Challenge. My theme is open-ended. My goal is to write daily posts using each letter of the alphabet in April (Sundays off for good behavior and to make it work for the alphabet). I'll be writing family stories, memoir or journal prompts, reviews about theatre and food, maybe a visit from my sock puppet characters Millie and Willie, and using photos I've taken along the way. Enjoy!
The North Shore of Lake Superior is a destination. Travelers from around the world come to gaze at the largest of the great lakes that resembles an ocean. Waves crash against the shore. Rock formations, and jagged edged beaches are both beautiful and treacherous. Storms on Lake Superior rival the anger of the salty seas. November storms, in particular, have been deadly. Most people have heard of the Wreck of the Edmund Fitzgerald, immortalized in Gordon Lightfoot's ballad. In November 1905, 116 sailors perished, and numerous ships were damaged. Lake Superior is a waterway that links this area that is otherwise landlocked in the middle of a continent. Iron ore is mined in the surrounding area. Shipping companies demanded better routes and safety measures, thus the Split Rock Lighthouse was constructed, before roads were made to the site. Supplies were brought in on barges and hoisted up the cliff.
During Spring Break this year, we had a stay-cation. My twin sons are in driver's training and needed to get in hours, and I
wanted to go with them on an excursion. I picked the North Shore, and The Split Rock Lighthouse. It was a warm, sunny day in Brainerd when we left, temps around 50 degrees. It was actually hot in the car. I dropped off my taxes to get prepared, stopped at the grocery store for some snacks, and we drove off. I had intended to put my coat in the car. Ooops. I now have a souvenir jacket from the Split Rock State Park!
The boys are learning to drive, and it goes well, for the most part. In town, though, as they're getting used to driving my rather touchy Subaru, it's a little jerky. Once on the open road, it's smooth sailing. We left a little later in the morning than I had wanted, so by the time we got to the North Shore, and had driven through Duluth, we were hungry. So, first things first, we stopped at Betty's Pies for lunch. (They have more than pie, although, that's the draw!)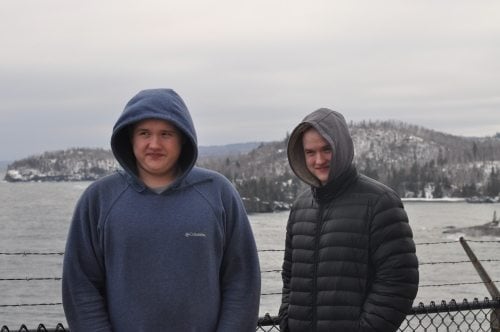 Brrr. Don't they look cold. I was standing there in a long-sleeved, thin shirt. By the time we got to the Split Rock State Park, it was almost 4:00, closing time. Although, they said we could wander around the place until dusk. The lighthouse itself was closed for the winter. Luckily, the gift shop was still open so I could buy that jacket! The boys wanted to hike the trails down to the shore.
The boys liked being on the North Shore, despite the chill coming off the lake. Eric said he could stay there a long time. They wanted to explore more, and since I now had my new jacket and Eric's warm cap, we headed a little further down the trail.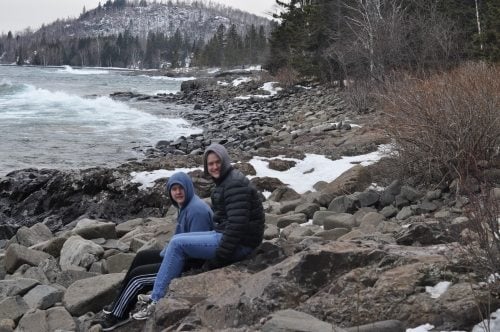 I'd never been down this trail even during summer visits to the park. It is gorgeous. I think the snow caps, the powerful waves, and the starkness of early spring added beauty to our hike. We do plan to come back, though, during warmer weather! They said they'd take me camping. I'm a novice camper, but the boys have experience through scouts. If you're a greenhorn at camping, going with a couple Boy Scouts seems to be a good choice!
The picture of the boys crossing the bridge together makes me a little sentimental. They're sophomores in high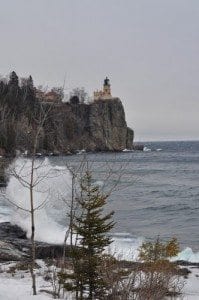 school now, but we all know how fast time flies. They will soon be crossing over into the college years, leaving home, and I will miss my guys so much.
Picture of the lighthouse from a little further down the shore. I bought the season pass for the MN state parks. I have high hopes of taking my boys on more adventures. Or, will they be taking me?

I'll leave you with one last shot. They're still boys, still acting like puppies, and who is
king of the tree stump!
Eric drove home without incident. We didn't stop to eat, since we were still full from our late lunch at Betty's Pies. I even nodded off a little, and Eric said, "We'll be home soon, mom."
Go. Create. Inspire!
Journaling Prmopt: Have you ever visited one of the Great Lakes? What do you do to remain calm when teaching your children how to drive?