I am participating in the Blogging from A to Z Challenge. My theme is open-ended. My goal is to write daily posts using each letter of the alphabet in April (Sundays off for good behavior and to make it work for the alphabet). I'll be writing family stories, memoir or journal prompts, reviews about theatre and food, maybe a visit from my sock puppet characters Millie and Willie, and using photos I've taken along the way. Enjoy!
Last January, the Biker Chef and I took a dream trip to the Hawaiian Islands. We spent two days on Oahu, just enough time to visit Pearl Harbor, then flew over to Kauai. His daughter Alyssa and her husband Jake joined us there for a week on the garden island. It is the island paradise of the movies, sandy beaches, warm and sunny weather every day, hiking paths up through the tropical rain forest, and a few whale sightings. I'll share a few highlights here today.
We arrived on Kauai on a Friday afternoon, settled in, had dinner at Duke's (giant salad bar), and got up early the next day to visit the local farmer's market. They are serious about the starting time. While we were waiting for it to open, we chatted with a local woman. She worked at the hospital and talked about recruiting nurses to come live on Kauai. She asked them if they liked chickens. One woman who grew up in Wisconsin, said, "Sure. I like chickens. I'm from a rural area." When she arrived, she understood better what the woman was asking. Chickens run freely around the island of Kauai, much like the squirrel population in most other places. You can hear the rooster crow at any time of day! She noticed that we weren't carrying any bags, so she went to her car and gave us one of her extra canvas bags. Plastic bags are banned from the island.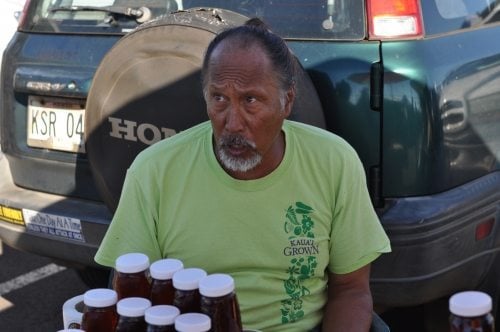 Strange fruit to us Midwesterners, delicious breads, and local honey along with vegetables were some of our purchases.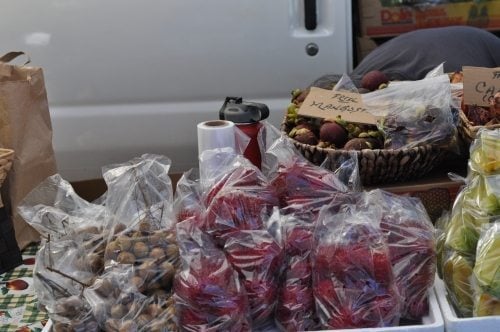 Yes, I brought the sock puppets along to Hawaii. I anticipated taking some fun photos and using them on the blog. Plus, you can't have a grand adventure without Mr. Happy. Millie and Willie Cottonpoly are the other two puppets that I created several years ago. This is a rambutan. The spikey outer shell looks like something that would come from the ocean. You crack it open and peel it off, and inside is a large pit surrounded by a shiny fruit that looks and tastes like a really sweet grape.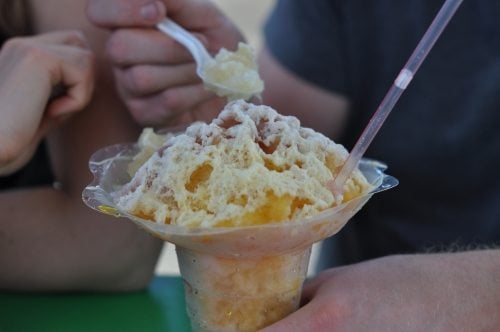 Shave ice is a must have when visiting the islands. You can get just the ice with one, two, or three flavors. You can have ice cream on the bottom (I love ice cream), and then they squirt sweetened condensed milk over the top. It is so yummy!
The Biker Chef and his daughter. She's expecting baby number three. I hope this was a relaxing week for her and Jake. We sure had fun. Our unit at the Kauai Beach Resort faced the ocean, ground level with a walkout to the beach. Every morning I'd get up at five minutes to seven, put on the coffee, then go outside and watch the sun rise. The one day that I didn't walk down to the beach, I saw a whale tail flap out of the water. 
I'll stop there. I have hundreds of pictures from this trip and just as many good memories. I'll find a letter, or two, more where I can share photos and stories about my favorite day on Kauai. I hope you all have a chance to take a dream trip some day.
Go. Create. Inspire!
Journaling Prompt: What is your dream vacation?