I am participating in the Blogging from A to Z Challenge. My theme is open-ended. My goal is to write daily posts using each letter of the alphabet in April (Sundays off for good behavior and to make it work for the alphabet). I'll be writing family stories, memoir or journal prompts, reviews about theatre and food, maybe a visit from my sock puppet characters Millie and Willie, and using photos I've taken along the way. Enjoy!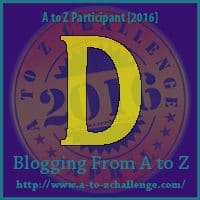 Mr. Happy is the puppet sold by the Aerostich company out of Duluth, MN. The yellow smiley face shows up on many products. You can even find books about him. The puppet, though, is from Aerostich, and they encourage you to bring him along on all your riding adventures. If you run into road construction, Don't worry, bring out Mr. Happy! If your motorcycle has problems shifting, Don't worry, bring out Mr. Happy! If you hear a funny noise, and need to stop for some roadside repairs, Don't worry, Bring Mr. Happy! If the weather turns ugly and you find yourself in a hailstorm, pull over, take cover, and bring out Mr. Happy!
Here is Mr. Happy the day we got him from Aerostich in Duluth, MN. Look how clean and yellow he is. He's traveled many miles since that first day, kept our spirits up after long days in the saddle, and entertained and inspired kids in my theatre classes.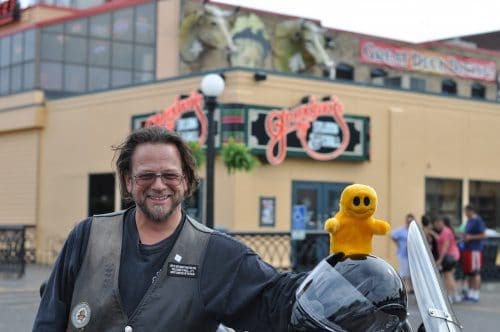 Tina started slowing down unexpectedly while we were returning from the annual trip to the Sturgis Motorcycle Rally. Turns out the linkage on her shifter broke. Luckily, someone had zip ties to bind it together until she got home. Tina, and Mr. Happy, took it all in stride.
Mr. Happy has been there for good times, too. When The Biker Chef turned 100,000 miles on his Harley-Davidson Road King, we stopped and took pictures. Mr. Happy was very happy about all the miles the Biker Chef has ridden and the adventures he's been on.

One time, Mr. Happy was NOT happy. We had forgotten to bring him along to a trip up the North Shore, including a stop at Betty's Pies. I went to the tour pack to bring him out for a photo shoot with the blueberry cream pie. No Mr. Happy. When we got home, he was Mr. UnHappy.
We have many pictures of Mr. Happy on our motorcycle adventures, which you can read about under the category Ride off the Page. Spring is finally here. The Bike Chef's Road King is out of the shop and ready for the next season's adventures. This is one of my favorite pictures with Mr. Happy on our way home from the rally in 2014. I posted it and tagged the author of the books in the picture, Sandra Brannan. The photo won me a $50 gift card for Amazon and the entire series, so far, in her Liv Bergen mysteries set in the Black Hills of SD. Her newest one, Jacob's Descent, just came out. I plan to read and review that one soon!
Go. Create. Inspire!
Journaling Prompt: What adventures are you looking forward to?