I am participating in the Blogging from A to Z Challenge. My theme is open-ended. My goal is to write daily posts using each letter of the alphabet in April (Sundays off for good behavior and to make it work for the alphabet). I'll be writing family stories, memoir or journal prompts, reviews about theatre and food, maybe a visit from my sock puppet characters Millie and Willie, and using photos I've taken along the way. Enjoy!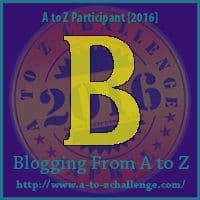 B is for Break the Mouth a Pidgin English expression used in Honolulu, HI to describe food so good that it "breaks the mouth." We recently were on vacation on the Hawaiian Islands, where we learned this expression from a cabbie, after experiencing a couple excellent meals. 
On our first night in Honolulu, we stumbled into Chef Chai's Restuarant. The first thing I did when I sat down was scrape my arm on a picture back that had fallen along the wall by my chair. It was black and I didn't even see it. We ended up moving to a better table because the moisture from the A/C was dripping, which had caused the backing to fall. Turns out, this is one of the best places to eat in Honolulu. Once I got a band-aide for my cut, and we settled in, we ordered several small plates and a bottle of wine. Chef Chai came out to greet us and talked shop with The Biker Chef. 
On our second night in Honolulu, we ate at Duke's restaurant, located in the Outrigger Waikiki Resort on Waikiki Beach. It has one of the biggest and best salad bars you'll ever experience. You could easily make that your meal, but why stop there! We decided to make our own surf and turf plate by ordering two meals and splitting them. We rolled back to our hotel! But, what a delicious dining adventure! The general manager came out to talk to us, there, as well.
We had so many excellent meals from food carts to tucked away restaurants while we were on our vacation on the islands. I'll save a few to share with you on another day, using up more letters! 
Go. Create. Inspire!
Journaling Prompt: What are your favorite foods that "break the mouth?"