Quote of the Day: We write to taste life twice, in the moment and in retrospection. Anais Nin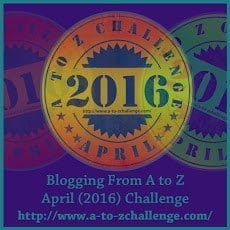 I am once again participating in the Blogging from A to Z Challenge in April. This marathon of a blogging challenge was started by Arlee Bird back in 2010, where participants write a post for every letter of the alphabet, starting with A on April 1. We get Sundays off for good behavior, and to make the alphabet work. It has gained momentum over the years, and now over 1300 bloggers are participating. I've had fun with the challenge in the past, writing about what inspires me, names, theatre, stories, food (with the Biker Chef), using my sock puppet characters Millie and Willie Cottonpoly, and many, many of my own images. This year, I didn't have much of a theme planned, so I did not participate in yesterday's Great Theme Reveal. Reading other blogger's themes and ideas got me thinking more about mine, and I wanted to be clear. I am participating in the challenge. Look for daily posts here in the upcoming month. My goal is to simply post every day using family stories, writing reviews, catching up on some posts from trips and restaurants, and reflections. I hope you enjoy them! The best things about the April blogging challenge are that it gets us writing every day, reading other blogs, commenting, and connecting. Also, I get to use some of the photos I've been piling up! To learn more about the challenge, or to sign up, click on the links above.
Go. Create. Inspire!
Journaling Prompt: Are you participating in the blogging challenge? Have you ever participated in something like that where you have daily practices? What would your theme be?