Quote of the Day: from Matthew 25:35-40, The Message Bible
I was hungry and you fed me,
I was thirsty and you gave me a drink,
I was homeless and you gave me a room,
I was shivering and you gave me clothes,
I was sick and you stopped to visit,
I was in prison and you came to me.
"Then those sheep [people] are going to say, "Master, what are you talking about? When did we ever see you hungry and feed you, thirsty and give you a drink? And when did we ever see you sick or in prison and come to you?" Then the King will say, "I'm telling the solemn truth: Whenever you did one of these things to someone overlooked or ignored, that was me – you did it to me."
That is what Doreen McGettigan and her husband John did for a woman named Sophie. John knew her, a little, from when she would show up at some of his 12-Step meetings. One day, on his way home, he saw her walking on the sidewalk. She stumbled and he helped her pick up her bags and offered to drive her home. She said he could take her to a nearby McDonald's. He said he would buy her some food, then drive her home. It was October in Pennsylvania, cold and sleeting. She finally admitted that she'd been sleeping in the woods. She was homeless. He decided right then and there to bring her home…for the night. Sophie stayed with John and Doreen for two and a half years. The Stranger in my Recliner is their story. Doreen learned as much as she could about Sophie, who was very guarded with her life story, and suspicious of most people, including doctors and police officers. Doreen gave her food, water, a bath, her own clothes, and eventually a bedroom in their home. Sophie was about 80-years-old at the time. Doreen tried to find resources for Sophie, and a safe place to live. She met many roadblocks. 
Through her desire to help Sophie, Doreen learned much about the social system in the United States, and in her home state of Pennsylvania. It is a flawed system, sometimes no system at all, with a history of corruption. She delved into the history of the treatment of people with mental illnesses, and learned of many horror stories. When a person is elderly, has no family who cares about her, and suffers mental illness and PTSD from a hardscrabble life, she has little resources. Add to that a developed distrust of medical staff and the authorities, and a woman ends up sleeping in the woods. John and Doreen are people of great compassion. They did what they thought was the right thing to do. Despite the fact that it was hard – hard on them, their relationship, their own resources, and their family and friends, who thought they were crazy. She asks the question in her book, "What would you do?"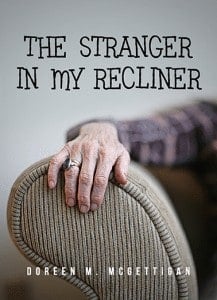 The Stranger in My Recliner is an important book. It opens our eyes to what homeless people must go through. It shows us a real person in a terrible situation. And, it shows us what two people with kind hearts can do for someone, make a difference in just one life, a precious life. God bless you, Doreen and John. Thank you for sharing your story and Sophie's story. May this book help to make a change in our world.
You can learn more about the author Doreen McGettigan, Sophie, and her story at Doreen's website. She is also an excellent blogger and advocate for social justice. 
Go. Create. Inspire!
And, in the words of another favorite Bible verse, from Micah 6:8, Do justice, love kindness, and walk humbly with your God.
Journaling Prompt: What would you do? If you knew someone like Sophie, picked her up on a cold October night, and knew she had no place warm or safe to sleep that night? What would you do?