This post is part of the "Try It, You'll Like It!" Blogathon, hosted by Sister Celluloid and Movies Silently, where we write about "gateway films" that might bring non-classic-film lovers into the fold!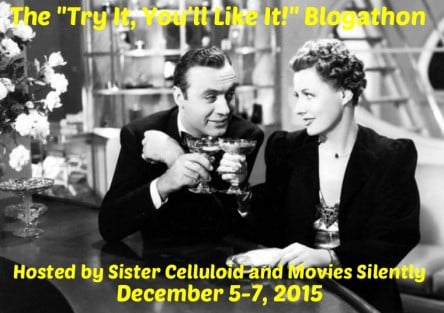 I decided to participate in this blog hop because I actually like old films. I am drawn to, and appreciate, black and white films for the same reason I enjoy black and white photography. It's about shades and textures, the use of lighting, focus on the subject, people's expressions, the varied backgrounds and all their wonderful antiques and accents, and the viewer fills in the colorful details with their own imagination. Also, when it comes to older movies, the writing wins. Many modern films rely on the "sensation" factor, fancy technology and special effects. What early film makers could do with camera angles, shading and good writing is much more impressive. The first film that I enjoyed in black and white is Frank Capra's It's a Wonderful Life. So, imagine my glee when flipping through the channels one day, several years ago, I discovered another gem by Capra, Here Comes the Groom, starring Bing Crosby and Jane Wyman. I thought, I should check this out. Little did I know that I'd get hooked in the opening scene and never look back.
It's that opening scene that grabbed me by the heartstrings and wouldn't let go. Here Comes the Groom is set a couple years post World War II. Pete Garvey (Crosby), a newspaper correspondent, is writing articles in hopes of finding families in America who will adopt some of the many orphaned children in France. Bobby (Jacques Gencel) and his little friend Suzie (Beverly Washburn)have worked their way into his heart, but he doesn't quite know it, yet. He's trying to find Bobby a family, and when the famous conductor of the Boston Philharmonic shows up, Pete is sure he's sending the young lad off to a happy life. But, neither Bobby nor the the conductor and his wife agree. They're ready to fly back home, when Mr. Garvey sees Theresa (Anna Maria Albreghetti) standing in the background. He gets a brilliant idea. He has Theresa sing for the famous conductor and his wife, a beautiful opera song, where she simply shines. She's blind, so they think she's unadoptable. Pete steps in and says, "She's blind. Yes. But, she has a heart and a throat, and that's what you use to sing songs with, isn't it?" I weep every time I watch this scene. The couple embraces the girl and say she will be "in the Metropolitan, in Carnegie Hall," and they take her home.
Now, Pete Garvey has a problem. He's being shipped out of the country to another assignment. He hasn't placed Bobby and Suzie, yet, and he gets a message from his long time girlfriend, Emmadel Jones (Wyman). This is a great scene. She has sent him a record, yes, an actual vinyl record that she recorded for him, so he (and the audience) can hear her voice. She's giving him an ultimatum. He gets an idea. If he shows up in the airport with Bobby and Suzie, he can win her heart back and provide her with the children she says she's missing out on having. But, there are complications. He gets delayed. She gets frustrated and becomes engaged to a wealthy real estate giant. When Pete finally shows up with the kids in tow, he faces the pressure of getting married, in order to make the adoption legit, win back his one true love by stopping her wedding, and getting the old maid Cousin Winifred (Alexis Smith) to pretty up and turn the eye of Emmadel's fiance' Wilbur Stanley (Francot Tone). It's quite the love triangle.
The film is set in the late 1940's and was released in 1951. There are all kinds of stereotypes and typecasting. The only people of non-white Euro-American heritage in the film are servants, of course. The women all want to get married and have children. Blah. And, Pete Garvey wins the day by being manipulative. But, the women have spunk and are intelligent, and old Pete Garvey is put in his place more than once.
What saves the film are the adorable children, and the music, naturally. The theme song, In the Cool, Cool, Cool of the Evening, won the Oscar in 1952, the award going to composers Hoagy Carmichael and Johnny Mercer (you might have heard of them). It has been sung and recorded by famous, and not so famous, singers ever since. It's a great tune. I love the scene where Jane Wyman and Bing Crosby sing and act it out. It is fun, silly, tuneful, and shows you that their love for each other goes way back. They are a team.  
I didn't get a whole lot of information on this film, other than what I read on Wikipedia. When I googled Bing Crosby, I read some unsavory things. He worked his way into America's heart with his gorgeous crooner voice, his puppy dog eyes, and endearing roles like Pete Garvey, who would have adopted those kids on his own, if the times had allowed it. In real life, he wasn't so kind. He might have portrayed the idyllic father on screen, but was far from it at home. 
Jane Wyman, on the other hand, was America's sweetheart. She had just divorced the future president of the United States, Ronald Reagan. They had a couple kids together, and adopted a son. They lost a baby in infancy, and the grief was too much for them. Her son, Michael Reagan, released this statement upon her death: I have lost a loving mother, my children Cameron and Ashley have lost a loving grandmother, my wife Colleen has lost a loving friend she called Mom and Hollywood has lost the classiest lady to ever grace the silver screen.
Give the classics a try. You might find a story that warms your heart, or challenges your thinking, and you'll see where many of the popular songs of the day came from. See more reviews during this blog hop at Movies Silently or Sister Celluloid for a complete list of participating bloggers.
Go. Create. Inspire!
Journaling Prompt: Do you enjoy older films? What are some of your favorites? Who are some of your favorite classic movie actors?