Quote of the Day: She warned him not to be deceived by appearances, for beauty is found within. – the Narrator from Beauty and the Beast.
*Blogger's note: This is a completely biased and "rose" colored review of Disney's Beauty and the Beast, playing now at the Pequot Lakes Community Theater (in their high school) produced by the Greater Lakes Area Performing Arts (GLAPA). See their site for tickets and showtimes.
I have enjoyed watching my little sister, Joy Ciaffoni, perform ever since we were youngsters growing up on the farm and doing Sunday School programs, made-up dance routines for talent shows, and putting on performances for our family. It is in her blood. She played the best Marian the Librarian in a community theatre production of The Music Man in Alexandria, MN, has done numerous other roles throughout her career, and now she is Belle in Beauty and the Beast. She has a way of putting her whole heart into her part. We are so fortunate to have such great talent (not just my sister) who are willing to give up their time to make magical theatre for their community. My friend Laura Oldham is the cutest and most talented Mrs. Potts. (Love hearing her sing, and she has the best comedic timing) Eric Boyles as Gaston looked like he was plucked right out of the cartoon version and puffed himself up to be the annoying self-centered stud. His side-kick Lefou (Ben Gordon) kept us in stitches and his energy was amazing. My favorite household characters were Lumiere (Travis Chaput) and Cogsworth (Michael Sander), one lighting up at just the right time, the other worrying and waddling and ticking off the great one-liners. Nicole Rothleutner was a sexy little Babette with a very fun and flouncy costume. Amanda Longie plays the character with the name that is the most fun to say, Madame de la Grande Bouche, and she is grand, indeed. Her facial expressions, voice, and accent are delightful, and she gives us a few operatic lines that are also grand. I can't skip Chip, the darling little 8-year-old teacup, played by Josiah Sechser who makes us giggle, sigh, and cry. And, of course, The Beast, played by Eddie Binda. He, like his character, are hidden behind masks, lurking in the darkness, falling back on ugly ways. Until…a girl shows up! And, yes, she does change his heart. Through her strength, he realizes that you can't always get your way by bullying people around. And, it didn't escape this writer-reader's attention that the turning point in their relationship happens in the library, surrounded by all those lovely words, while they're reading a book together. Oh, the power of stories!
This is a delightful show filled with all the magic, songs, dancing (wow, the dancers, Abby Oldham a former piano student of mine, showed her fine ballet skills on stage along with the other dancers), and story that you know and love. It is brought to life by community members who love theatre and are willing to share their talents. This is a big undertaking for a little theatre like GLAPA. But, they pull it off, complete with set changes, amazing costumes, and careful timing, lighting, sound. Director Lauren Nickisch, stand up and take a bow. That standing ovation that started even before the curtain call is all because of the tremendous amount of time and energy you put into making this happen. Thank you, All of you, for the delightful evening of magic and story! (And, Joy really is the best Belle you'll ever see!)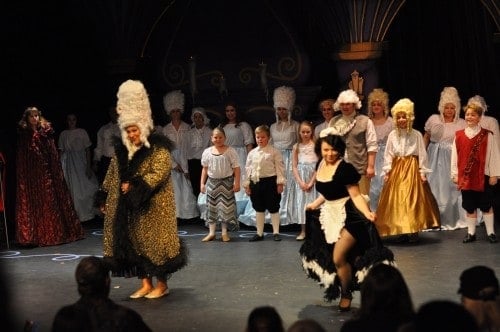 Lumiere: Ma chère mademoiselle. It is with deepest pride and greatest pleasure that we welcome you tonight. And now, we invite to relax, let us pull up a chair, as the dining room proudly presents… your dinner.
Go. Create. Inspire!
Beauty and the Beast, playing at Pequot Lakes, November 13-22, 2015. Tickets and showtimes at GLAPA. (PS: get your tickets early, last night they were sold out!)
Journaling Prompt: Do you have a favorite fairy tale, or story, that wins your heart?