Quote of the Day: The emphasis was on the midwife and the woman being in partnership, making decisions together about the care given. It was a model of equal power, rather than of a health professional telling the woman what to do and what would happen to her. Power was now given to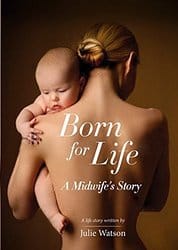 women, which was so different from my own experience. Julie Watson, on becoming a midwife in her memoir Born for Life – A Midwife's Story. 
Julie Watson has written the most fascinating memoir I've ever read. She is so descriptive, open, and honest about her journey to becoming a Midwife. When she was only 16-year-old she went to work at the maternity ward in the small hospital of her home town Pahiatua, New Zealand. It was the early 1970's and practices have really changed since then! She describes her first experience in helping with a birth, surprise twins (which was more common before the use of ultrasound scans. I think I had five scans when I was pregnant with my twins), difficult births, and tragic stories. My heart went out to the young, unwed mother who never even got to see her baby. Julie doesn't hold back on her personal experiences. She shares the most intimate details of her own pregnancies and births, her own heartaches and joy. She experiences loss and depression, marital difficulties, and eventually find Gods. But, this story isn't so much about finding God as it is following the life He had planned for her, the life she was born to live. Julie Watson is Born For Life, to be the guide and guardian of women during pregnancy, birth, and when the baby is a newborn.  
I love this memoir so much that I've already been talking it up to my friends and family. I plan to give my mom a paper copy for Christmas. While I was on Darcy's table last week for some lovely and much needed massage therapy, I started telling her about the book. Darcy has also worked as a Doula and assisted in many births. She was so excited to read the book that she said she downloaded the Kindle version that night because she couldn't wait for the paperback to be shipped! I recently joined a book club, and my first recommendation for the group is Julie Watson's Born for Life. This book gives you plenty of room for reflection on your own birth story, birthing your own children if you have them, witnessing births and prengancies, or simply caring about what happens during this miraculous event. And, when you think about all the things that can go wrong, and sometimes do, you realize what a miracle we all are. 
Julie continues to live out her calling. She's been to England for more training and practice, then worked in Africa for a while, and now works in rural areas of Australia. We've been in correspondence via email as she sent me a copy of her marvelous memoir to read and review. I suggested that she write a follow-up book on her continued experiences. Thank you, Julie, for sharing your beautiful story and work with the world. You are truly a gift and an inspiration to many women, a true blessing. I wish I had known someone like you when I was having my babies.
You can find Julie on her Amazon author page: Julie Watson Author. Born for Life is available in paperback and a Kindle version. You can post your own reviews on Amazon and Goodreads.
Go. Create. Inspire!
Journaling Prompt:  Write your birth story.