The 75th Annual Sturgis Motorcycle Rally was, as predicted, a loud, chaotic, crowded, raucous roar of motorcycles, riders, and passengers, all trying to navigate the twists and turns of the roads, vendors, and events that make up the Rally. We rode the Biker Chef's 2003 Harley-Davidson Road King with just over 100,000 miles on it, and arrived on Friday, July 31, still technically pre-rally, with our traditional stop at the VFW in Sturgis for a burger and beer, then a ride out to the Jackpine Gypsies tent and raceway site for our t-shirts and patches.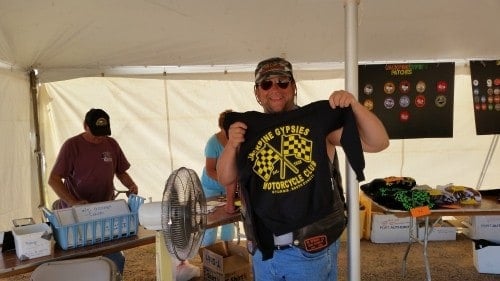 The Jackpine Gypsies are the Motorcycle Club that started it all back in 1938 by holding races and games. It was a family event.
As I say in the article I wrote on Ride to the Rally for the Lake Country Journal, the biggest reason that the Biker Chef, and many motorcyclists, like coming to the Hills is for the rides. We took all his favorite roads, saw wildlife, including buffalo and elk, and took in the sites. It was crowded, which added to the danger, and many motorcyclists try to go too fast. This is not a time for an inexperienced rider to try to navigate these roads and traffic. Last I heard there were nine deaths during the Rally, as of Wednesday. We saw a young woman on the side of the road on the Needles Highway. We don't know if she was riding her own or a passenger. She was wearing shorts, a tanktop, flipflops, and a helmet. Her legs were all bloody, but she was moving. The paramedics had her on a stretcher. I know it's hot out there, but you still need to dress for riding. Wear long pants and boots. Helmets are optional, but I prefer to wear one. We do take our leather jackets off when it's hot, but usually replace them with a leather vest for a little more protection. 
We also saw a guy go down while we were at a gas station near Hayes, SD on Hwy. 14. He seemed to have braked too suddenly (maybe realizing he missed the turn), and turned too sharp. The bike rolled one way, and he rolled the other. I watched to see if he moved, holding my breath. The Biker Chef yelled, "Accident, call 911!" A woman got right on her bike to go help. A few others went over there. We didn't know if any of them had EMT training. We saw him move, and when she came back she said, "He'll be okay." How terrifying, and what a horrible way to start your vacation and your day. It was about 8:10 a.m. He got up and was walking when we rode away. I'm sure he's sore, and I have no idea what condition the bike is in.
During our tour of the Hills, we hung out with friends, saw some of our favorite sites as well as some new ones, and met people from all over. I'll write more about that in another post. On Wednesday morning, we woke up early in Deadwood, SD, packed up and headed back to Minnesota, not sure where we'd stop for the day. We took a supper break in the Chef's home town of New Ulm, MN, and thought we might stay at a hotel there and ride the rest of the way home in the morning. We tried to check in and found there was no room at the inn, or any other hotel in or near the town because of a big event. We leathered up (put on our warmer gear) and headed north. We got home around 11:00 p.m. after riding 720 miles. We were sore, tired, wind blown, and ready for our own bed. I took a hot soak in the tub and fell asleep. I woke up and crawled under the covers. My own bed was dreamy…