Quote of the Day: Some relationships are so strong; nothing could possibly break them… not even death. Beth Selinger, in her director's notes for the current production of The Cemetery Club at Cream of the Crop Theater in Randall, MN.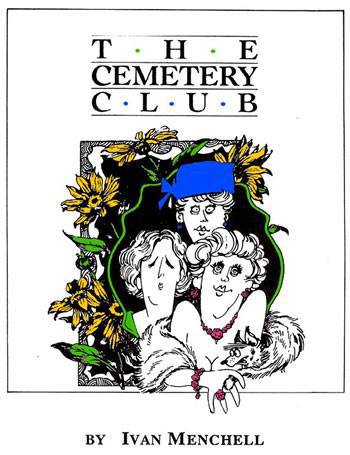 The old undertaker's wife joke goes like this. The Merry Widows Club is having so much fun, I can't wait to join them! This is not a line from The Cemetery Club, but I had a similar feeling as I watched the show. Here is a story about friendship that lasts through the decades, through thick and thin, through the merriment and the grieving. Three friends in a Jewish community have a regular date to visit the graves of their deceased husbands. What bonds them is their friendship, their history together, their grief. What makes them different is how they're handling this major life change and how they may, or may not, move on from it. It is an endearing story, full of great lines, laughter, tender moments, and hope. Watching the three main characters interact felt like a true friendship. The women who play Doris (Rhonda Schmidt), Ida (Sharon Hartley), and Lucille (Janice Bear) seem to be really comfortable with each other onstage, like friends in real life. Sam (Dan Dambowy) waltzes in as a new love interest and throws the trio for a loop. He has a sweet demeanor, and is working through his own grief. He has a friend named Mildred (Gloria Weber) who brings a few extra laughs and twists in the plot line.
The Cemetery Club has three more shows left this weekend. July 18 & 19, 7:30, upstairs at the Randall Creamery Quilt Shop, and Sunday, July 20, at 3:00. Call 320-749-2420 for tickets.
During Sunday evening's performance last week, the Storm of the Century ripped through the lakes area. The sirens went off, and the entire cast and audience had to "schlep" down the stairs – TWICE! Beth, the director said, "It was quite the scene, helping everyone up and down the stairs. They had planned to take photos after that performance, but it wasn't good timing. Despite all that, the performance went on, and the audience members were troopers. One even stopped to snap this shot as she was leaving the theater.
Next up at Cream of the Crop Theater is auditions for Regrets, a play for and about high school students and the difficult challenges they face. Beth directed this play a few years ago, and I found it to be a powerful script. Auditions are for teens, ages 14-18, August 2, at 1:00 pm at the theater. Performances will be September 18, 19, 20. Cast members have come from Pequot Lakes, Brainerd area, Little Falls, and of course, Randall.
Go. Create. Inspire!
Journaling Prompt: Write about one of your best friends?