The Biker Chef had his '03 Harley-Davidson Road King in the shop at Maximum Motor Sports in Brainerd this week for a tune-up and a once over to make sure it's ready for the Ride to the Rally. We made reservations a year ago for a room in Deadwood, as they expect over a million tourists and bikers this week, next week during the official rally, and the week following. From
pictures I've seen on the internet, they're already getting ready for all of us to arrive. What a crowd it will be! We have a few places on our list to visit, restaurants as well as sites and dealerships. A new Indian motorcycle shop opened this summer in Sturgis, so we'll be stopping there. I decided not to bring my laptop or big camera on this trip. We only have so much room with two of us on the bike, plus all our gear. The laptop is on its last leg, anyway, and probably couldn't handle on the bumping around, plus, getting a good internet connection is sketchy, at best. So, I won't do any regular blogging. My Samsung Galaxay 5S phone takes good pictures, and I can post them immediately onto my facebook page, so go there for updates. I'll write up some regular blog posts on the highlights of the trip when I return.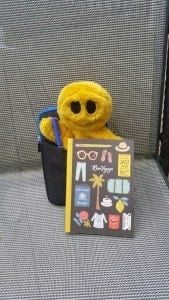 I'll be journaling about this adventure the old fashioned way, with an actual paper journal, pens and/or pencil, maybe a sketch or two, quotes, and of course, photos I take with my phone. Mr. Happy is ready. I am bringing my Kindle, but I couldn't find the protective case anywhere in my house. And, yes, I searched the couch cushions – several times! Luckily, my friend Jodi loaned me her nice case. Thanks, Jodi! Your case will share many grand adventures with Mr. Happy, and us!
If you want to keep up to date on our travels, visit and like my Facebook page for Play off the Page.
You can read an article on the Ride to the Rally in the July/August issue of the Lake Country Journal. (If you visit their website, they still have my article on Dining Adventures on their front page, just scroll down a bit. I have a link on there for the Deadwood Social Club article.) I mention author Sandra Brannan in the article on the Rally because her mystery novels are set in the Black Hills. Specifically, Lots Return to Sodom, actually takes place during a Sturgis Motorcycle Rally. I hope to meet up with her when we're in her neck of the woods. I need to find out when her next Liv Bergen adventure comes out. Can't wait!
I hope you're all having your own grand adventures this summer. Ride safe, and enjoy your time with friends and family!