Quote of the Day: All ziss coming and going! Berthe, the maid in the fun French farce Boeing Boeing playing at the Lyric Arts Main Street Stage in Anoka, MN, June 5-21. I was in the audience on the official opening night with Debbie the mother of one of the actors. What a fun way to spend a Friday night!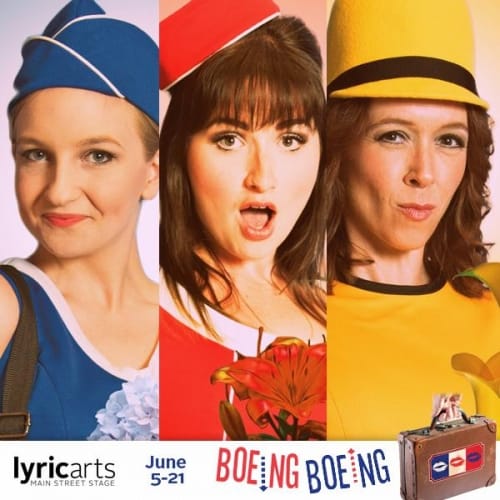 This photo ad is such a great depiction of the show, light, fun, varied and over-the-top characters, and fast paced. Whew! I was breathless just watching this show. The actors have to be sharp. They must pay attention to each other and remember which door to use. You know you're at a great comedic romp when the stage set has no less than six doors! This French farce relies more on quick wit and snappy dialogue than physical humor and sight gags, although we get a few of those too. I had at least one LOL moment after a big spill. We're easy audiences. We still get a kick out of someone falling and getting all mixed up. In this case, the mix up comes from trying to juggle too many women and too much scheduling that keeps changing. You know it's a set-up for a big blow-out. All of the actors were so strong. They were the perfect ensemble. No one being weaker and no one being an obvious stand-out scene stealer. Really, they were all so polished and fluid. I can only imagine what rehearsals were like for this cast. How many times did you need to practice those door openings and closings, the quick eye movements, the turn of the head? 
Also, kuddos to the director, Scott Ford, for bringing out the uniqueness in each character. They were all distinct and quirky in their own ways, each having her own accent and personality. That must have been a challenge! I know how easy it is to mimic another character's accent. You have to concentrate on not only your lines, but how you deliver them, with the right inflections. Plus, their mannerisms enhanced their characters. All three love interests of Bernard (Ryan Nielson) are flight attendants for different airlines. He schedules his time with them according to the flight plan. I thought Gloria (Nykeigh Larson) was a tiny dancer, then her movements took over the stage. Gabriella (Katharine Strom) was quite convincing as the sexy Italian flight attended, but sharp as a blade, picking up on comments and questioning them, sending Bernard and Robert (Kyler Chase) in search of the best explanation, ever entangling themselves in the web of deception. The third woman Gretchen (played by Jessica Scott) has a strong presence. She struts in with a lower, but sexy, voice swooning at the love she feels for Bernard while "accidentally" kissing Robert. Robert and the French maid Berthe (Jennifer Inderlee) are the characters who know what's going on and try very hard to keep up the charade. Berthe has some of the best lines, and Robert has the task of reacting to the next lover who shows up unexpectedly. He's the one in charge of sending everyone through the correct door! Audiences love it when they know what's behind the doors and lies, but the characters on stage do not. It's great to hear adults commenting from the audience with "Oh, no's. What about Gloria? Here comes the other one." And, other such phrases that prove they're paying attention.
If you find yourself in Anoka, MN this June, visit Lyric Arts Theater. It is a darling theater, classy front of the house, and a huge mural painted on the outside of the building. Grease is coming up next, July 10 – August 2, 2015, an audience favorite. Debbie and I walked around a bit downtown as we were looking for a place to have dinner. It reminded me a little of Stillwater, with antique stores, candy and ice cream shops, a nice music store (where we asked for a recommendation for dinner), and good food at Billy's Bar. How could you go wrong with a place called Billy's Bar? Unfortunately for us, the patio was full. It was a gorgeous evening! You can read a little more about the history of the show on the blog for Lyric Arts, written by Education Director, Cassandra Proball.
Go. Create. Inspire!
Journaling Prompt: Have you ever tried to juggle too many schedules, or love interests?