Quote of the Day: Time marches on, and suddenly you realize it is marching across your face! Truvy from Steel Magnolias. I played Truvy (Dolly Parton's role in the movie) in a community theatre production of this play. It was my biggest role, and I loved it. The ladies I worked with were wonderful. Our director was my friend Pete. How brave of him to direct an all female cast. Drama inside a drama.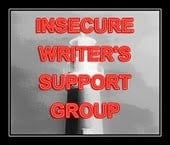 Today is the first Wednesday of the month (Again, that time keeps marching on!), and I'm participating in the Insecure Writer's Support Group, hosted by Alex J. Cavanaugh. You can visit his site for more info and to visit other bloggers who are participating, and join, if you like.
It's noon here in Minnesota, and I'm just getting to this post now. Today is the last day of school (Sing it, School's out for summer!) which has it's own kind of frenzied schedule. You'd think it would be slower paced, lazy days of summer, but not for us. We have driver's ed., band lessons, choir camps, other camps, a Boundary Waters canoe trip for the scouts, motorcycle trips, Ride to the Rally, meet-ups with family and friends, not to mention a brand new attempt at Straw bale Gardening. (I'll be writing about that later.) Plus, now, I need more food around the house for all those teenage boys. In fact, the next thing I need to do is go to the grocery store! So, you guessed it, where does writing fit in? Who knows? I have high hopes of finishing my current play and having a read-through. I think I'll shoot for early fall. I really want to see it produced. I may even attempt to get into the Minnesota Fringe Fest next year. There's where a big insecurity screams at me. Who would want to take a chunk out of their summer to do my play at Fringe? Well, I have a few people in mind. But, still, it's hard to ask, to put your work out there, to take a risk. 
For some strange reason I was feeling small this week, then my friend reminded me of all the things I do, many of them to improve the quality of life in our community and to promote the arts, and she said, "You're not small, you're big." And, the editor of Her Voice (a magazine I write for) wrote a lovely editorial on me, which you can read online, along with my article on picking strawberries, and a photo of my beautiful sister Joy is on the cover, which I took. In the article by Meg about me, she writes "I found my voice through Her Voice, then it got real loud." Maybe I'm afraid of being Big and Loud. Maybe I hear the old voices that say, "Good girls aren't big and loud." (shoulder shrug) I guess it happened anyway.
Go. Create. Inspire!
Journaling Prompt: How are you feeling today? Insecure? Confident? Any tips for feeding teenage boys all summer?