Quote of the Day: Theatre feeds the heart and nourishes the soul and enlarges the spirit. – Philip Pullman, from the article in The Guardian, Theatre, the True Key Stage. He continues to write, Children need art and music and literature; they need to go to art galleries and museums and theatres; they need to learn to play musical instruments and to act and to dance. They need these things so much that human rights legislation alone should ensure that they get them. 
Krista, the girls, and I started out our day visiting the Como Park Zoo and Conservatory in St. Paul, MN. Nothing brings back the feeling of being a kid like watching the monkeys in the zoo, or staring at the large animals with both fear and wonder. They are exotic and interesting, and sometimes so much like us, that it is scary. You wonder what it would be like to actually run across one of these beasts in the wild. It reminded me of the old Disney classic, The Swiss Family Robinson, where they lived in an elaborate treehouse and raced around on Zebras, ostriches, and  chased wild boar. We also walked through the Conservatory with the birds tweeting overhead, and the gorgeous flowers in bloom, misty and romantic.
After lunch, we headed over to the Minneapolis Institute of Arts to marvel at Art in Bloom. Floral artists pair their arrangements with one of the numerous selections of art from ancient Japan to Modern Art. It is incredible. If you ever get a chance to see this, go! It is the first weekend in May every year. I thought it was a fitting way to spend May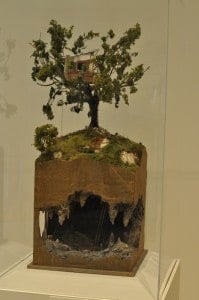 Day. I'll write more about it in another post. We were asked to vote on our favorites, and I'll describe ours. We didn't spend nearly enough time here, with three floors and room upon room of art, flowers, and inspiration. I will mention this one, though, a treehouse called Lost Boy Mountain. Below is a photo of the description. I took one look at this one and said, "Now, that could inspire many stories!" If you have time, go on a treasure hunt to find this one before going to the show, Peter Pan, and just let your imagination wander for a while.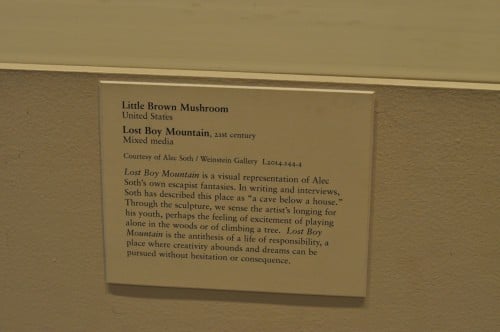 I saw many more paintings and floral pairings that sparked imagination. When I stood in front of one large wintery scene, I wondered why no one had picked it to pair with flowers. I had some ideas come to mind, and I'm not at all a floral arranger. In fact, I barely know my flower names! But, I could visualize what colors, sizes, and varieties would go with the painting.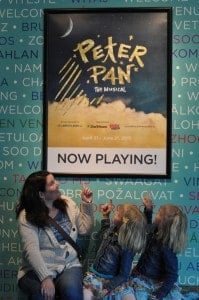 Now, on to the main event. Everyone asks if Peter Pan can really fly, and the answer is Yes! With the aid of acrobatic wires, and a skilled handler behind the scenes, not only can Tyler Michaels (Peter Pan) fly, he soars and glides, does acrobatic moves, and sings – all at the same time. I was out of breath just watching him, and the girls were on the edge of their seats (sometimes even standing up). Wow. Just wow. I remember Tyler telling the audience members at the Guthrie who stayed back for the discussion after the show of A Midsummer Night's Dream, that he had gone to Dell'Arte School of Physical Theatre, where, I believe, he got training in "flying." He was clearly self-assured soaring through the air above the stage at The Children's Theatre, landing on set pieces, gracefully lighting down and always maintaining that impish grin. He had the boyish glint in his eye that says, "Life is just one big game. Let's play!" And, play they did, at the Darling home, in the treehouse, and secret hideout below, in the forest with Tiger Lily and her Pounce troupe (a much improved change to the original script), and even in a duel with Captain Hook. And, yes, they sing "I don't wanna grow up," and yes, I sang along (quietly, so as not to disturb the folks around me). And, yes, I heard many people humming and singing it on their way out to their cars!
Peter Pan is a delightful show for all ages. It particularly appeals to those of us who stay young at heart and see the fun in visits to the zoo, lunch at diner counters, walks on lovely spring days, Art in Bloom, and of course, let your imagination take off while watching productions like Peter Pan. The Children's Theatre went all out for this one. The set is so amazing, it almost distracts. The costumes enhance the characters, and the music…well, you know it is spectacular whenever Victor Zupanc is in charge. 
Peter Pan is playing at the Children's Theatre Company in Minneapolis, MN now through June 12, 2015. Whatever show is playing there, whether it is a gentle story like Snowflake, an original production like Lizzie Bright and the Buckminster Boy, or a blockbuster hit like Cinderella, you will feel the love and inspiration that goes into each production and take a little bit of it home in your heart.
If I could ask the cast and crew one question, it would be, "Which of you contributed your used socks for the set?"
Go. Create. Inspire!
Journaling Prompt: What activities, or places, bring out the kid in you? Can you fly?