During the month of April, I participate in the Blogging from A to Z Challenge. That is 26 posts in one month, for each letter of the alphabet, time off for good behavior on Sundays. Over 1800 bloggers are participating this year. Last I checked, I was #812. This year, Millie and Willie Cottonpoly, my sock puppet creations, are here to tell you their story and share reviews, ideas, and inspiration with you. They're also helping to teach theatre classes for kids in the Brainerd area, and continue to view and review theatre productions and some books. This retired couple doesn't just sit around watching reruns on MeTv. (Although, Willie does like to put up his feet whenever Petticoat Junction comes on. It's that sound of the train whistle. Millie makes no apologies for watching the Lassie marathon while holding her dog Tillie on her lap.)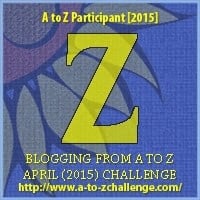 Z is for zoom and zzz. I'll let the puppets explain because, actually, Willie's thinking a weekend of watching Petticoat Junction and listening to old Boxcar Willie music sounds pretty good right about now. And, Millie has the couch reserved for the Lassie marathon, with some leisurely dog walking to break up the time. Mr. Happy, on the other hand, is gearing up for summer adventures.
Millie and Willie are Tired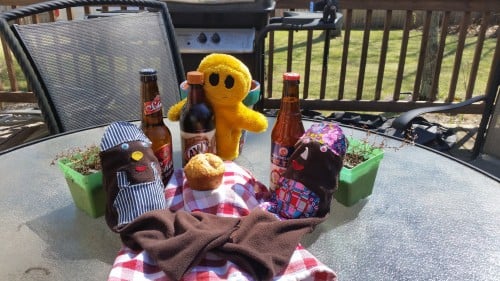 Willie: Have a seat, Mr. Happy. It's been a long train ride through the Blogging from A to Z Alphabet challenge here on Play off the Page.
Millie: Pass me a relaxing beverage, Willie. I'm not going anywhere tonight except into a long, hot bath, then bed. I have a book that's been waiting for me to read all month.
Mr. Happy: Whoa, hold on there. What are you two talking about. It's finally spring here in Minnesota. The Biker Chef has his Road King all tuned up and ready. We have miles to go before we sleep.
Willie: (snoring)
Mr. Happy: (tapping him lightly on the toe) Miles, to go, Willie. No time for napping. This is prime riding season.
Willie: (snorts and mumbles) train's not leaving for another eight hours.
Millie: Leave the poor dear alone. He isn't used to this much excitement since he retired from working on the railroad.
Mr. Happy: (starts humming)
Millie: Now, don't you start. We've been to K.C.'s for Bloody Mary's and Bourbon wings. We've had steaks at The Fort and coffee and the Coco Moon. We've gone to at least four plays, two poetry readings, and taught theatre class for kids. We've attended Mary's piano recital, entertained the kids at a birthday party, and got Zach ready for Prom.
Willie: Not to mention singing and doing two interviews on our Candid Canine Call-in Show. We had to get up early for that.
Millie: And, we've been spending so much time visiting other blogs, that poor Tillie hasn't gotten enough excercise.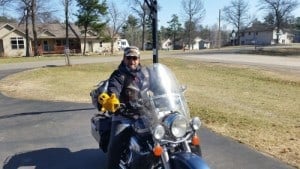 Mr. Happy: I can see you're feeling a little worn out right now. That's understandable. I'll go on this ride with the Biker Chef. You two take a long nap. Heck, rest up this weekend. Then, get geared up. We have the Sturgis Motorcycle Rally in August, and other adventures to experience near and far. Who knows? We might even bump into blogger buddies along the way.
I'll leave you lounging with Willie on the deck, tunes cranked, steaks on the grill, tasty brew in hand. Meanwhile, Mr. Happy and the Biker Chef will zoom off on more motorcycle adventures. You can read all about them under the category, Ride off the Page. They'll be eating, cooking, and dining off the page, too, at Dine off the Page.
Go. Create. Inspire!
Journaling Prompt: What are you looking forward to right now?