During the month of April, I participate in the Blogging from A to Z Challenge. That is 26 posts in one month, for each letter of the alphabet, time off for good behavior on Sundays. Over 1800 bloggers are participating this year. Last I checked, I was #812. This year, Millie and Willie Cottonpoly, my sock puppet creations, are here to tell you their story and share reviews, ideas, and inspiration with you. They're also helping to teach theatre classes for kids in the Brainerd area, and continue to view and review theatre productions and some books. This retired couple doesn't just sit around watching reruns on MeTv. (Although, Willie does like to put up his feet whenever Petticoat Junction comes on. It's that sound of the train whistle. Millie makes no apologies for watching the Lassie marathon while hol
ding her dog Tillie on her lap.)
Y is for yogurt. Hi, I'm Parker, one of Mary's students, and she asked me to be her guest blogger for the letter Y. I am 10 years old, in fourth grade, and as a fourth grader, I know that yogurt is an all time favorite. With many spectacular flavors and colors, yogurt can be found in many fridges all over America. Thousands of brands have sold yogurt, but Yoplait is the most popular. I think kids like yogurt because it has a fruity taste, and comes with many tasty toppings including nuts, cereal, and candies of all kinds of varieties. Another reason for this favoritism can be caused by all the different tastes, like I've talked about before. Yogurt is an amazing fermented milk that many love and cherish. Tons of people like different types, and some fight over which is the best. But when it comes to Lillie, Mary's sock puppet, she loves strawberry. And Willie's having a tough time making it.
Millie: Willie, how is that strawberry yogurt coming? You need me to grab some more ingredients, or another spoon?
Willie: Millie, you're so helpful. I'm fine, but man, if I've ever succeeded in something, it definitely isn't trying to make this! This cookbook has the worst directions! It's near impossible!
Millie: Oh, come on, Willie. Its Lillie's birthday, and you know how much she likes yogurt. The least you can do is to try and do your best. We're not even getting her a gift.
Willie: Millie, you're right. I'm just a little bit annoyed that Billie left us to go on that motorcycle race. I could really use a hand here.
Millie: I could help! I've made yogurt before… well, sort of.
Willie: What do you mean?
Millie: You see, when I was a school girl, I entered a school baking contest to try to see if I could win a bicycle. It was the competition right before the dog food contest, where you had to make a dog treat. For the cooking contest, I was going to bake a chocolate yogurt that I was sure would impress the judges.
Willie: Oh! I remember you telling me this story! You spent five days mastering that meal!
Millie: Yes, but, when the day of the contest came, I dropped the yogurt in some dog food! I didn't have enough time to make a new batch, so I fished all the pellets out of the chocolate-colored yogurt, and still gave it to the judges, without telling them.
Willie: Wow, your last telling left me with an amazing description of the judges faces. I can describe it myself. They clutched their throats, spit out their yogurt, and dashed to the drinking fountain. "It tastes like dog food!" One screamed.
Millie: Yes, and I was almost in tears. But, since I was the last contestant, the dog treat contest was already setting up. And, to my surprise, the judge looked at my dish and said, "Get me a dog for this!" And, to my surprise, the dogs liked it! I won a first place ribbon!
Willie: Oh, Millie, would Lillie like it better if I put a piano key in it, you think?
And, I'd also like to say happy birthday to my sister, PeYton!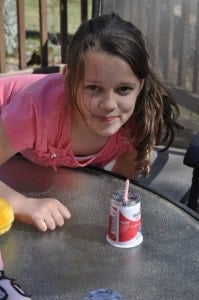 Thank you, Parker. You kept the flavor of the blog, and theme, in your post. You are a great writer. Thank you, Phoebe, for having small enough feet for the Lillie and Billie sock puppets. Thank you, Peyton, for your awesome personality, and for having a birthday on the same day as my twin boys, Charlie and Eric, and my friend Beth's daughter Emily. What a great day to have a birthday!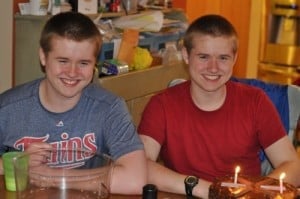 Go. Create. Inspire!
Journaling Prompt:  What are you celebrating? What's your favorite kind of yogurt? Have you ever won a contest, cooking or otherwise?