During the month of April, I participate in the Blogging from A to Z Challenge. That is 26 posts in one month, for each letter of the alphabet, time off for good behavior on Sundays. Over 1800 bloggers are participating this year. Last I checked, I was #815. This year, Millie and Willie Cottonpoly, my sock puppet creations, are here to tell you their story and share reviews, ideas, and inspiration with you. They're also helping to teach theatre classes for kids in the Brainerd area, and continue to view and review theatre productions and some books. This retired couple doesn't just sit around watching reruns on MeTv. (Although, Willie does like to put up his feet whenever Petticoat Junction comes on. It's that sound of the train whistle. Millie makes no apologies for watching the Lassie marathon while holding her dog Tillie on her lap.)
X is for Rail Road X-ing, of course, another post in honor of Willie Cottonpoly, retired Railroad worker, and lover of the song I've Been working on the railroad. I had the kids from my Theatre Class. I don't know why the picture doesn't show, but the video works. I'm a little jumpy with the camera, but Willie liked it anyway.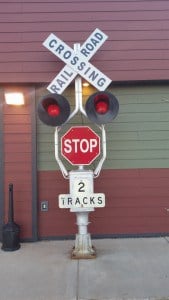 Willie: Thanks, kids, that was the greatest version I've ever heard.
Go. Create. Inspire!
Journaling Prompt: What's your favorite song?