During the month of April, I participate in the Blogging from A to Z Challenge. That is 26 posts in one month, for each letter of the alphabet, time off for good behavior on Sundays. Over 1800 bloggers are participating this year. Last I checked, I was #831. This year, Millie and Willie Cottonpoly, my sock puppet creations, are here to tell you their story and share reviews, ideas, and inspiration with you. They're also helping to teach theatre classes for kids in the Brainerd area, and continue to view and review theatre productions and some books. This retired couple doesn't just sit around watching reruns on MeTv. (Although, Willie does like to put up his feet whenever Petticoat Junction comes on. It's that sound of the train whistle. Millie makes no apologies for watching the Lassie marathon while holding her dog Tillie on her lap.)
U is for ukulele. Israel Kamakawiwo'ole, or Iz, plays it the best. Here he is playing Somewhere Over the Rainbow and What a Wonderful World.
It's beautiful, brings a tear to my eye. Millie and Willie have begun watching Hawai'i Five-O. Willie was a huge fan of the original series, and he thinks this new version is pretty good. Millie appreciates that a woman was added to the crime solving, butt-kicking, detectives.
Willie: That Iz plays a mean ukulele. I'd like to learn how to play the ukulele.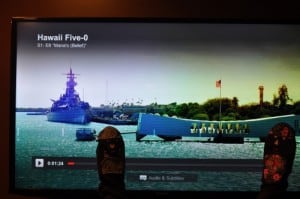 Millie: Oh, I didn't know that. Maybe I'll get you one for your birthday.
Willie: I was thinking I'd pick one up as a souvenir.
Millie: What are you talking about, Willie?
Willie: Millie, it's been 45 years since we became a pair, and I think it's time we had a second honeymoon.
Millie: Our first honeymoon in Duluth, MN was lovely, walking along the north shore, visiting Split Rock Lighthouse, searching for agates.
Willie: It's my favorite week of my life, Millie. Just spending time with you, eating out, breakfast in bed.
(Millie blushes)
Willie: I called a travel agent, Millie. I want to go to Hawai'i with you.
Millie: You can't ride the train to the islands, Willie.
Willie: I don't care that they don't even have trains there, Millie. I'd like to visit Pearl Harbor and pay my respects to the souls who lost their lives in the attack on December 7, 1941. I want to wear a flower lei around my neck and dance the hula, and pig out at a lu'au.
Millie: I've always wanted to visit the garden island, Kauai. Oh, Willie, do you really want to go?
Willie: Without a doubt. We're not getting any younger. I still want to be able to hike, do lots of sight-seeing, swim in the ocean.
(Millie just smiles and starts planning their itinerary.)
Go. Create. Inspire!
Journaling Prompt: What's a place on your bucket list to visit? Have you ever been to the Hawaiian Islands?