Quote of the Day: Tell me again, George, about the rabbits. Lenny, in John Steinbeck's Of Mice and Men, playing now at AAAA theatre in Alexandria, MN. 
My sister Joy and I took a lovely Sunday drive over to our old haunt in Alexandria, MN to watch our friends put on a community theatre production of John Steinbeck's Of Mice and Men. This script is heavy, emotional, controversial, a classic, a treasure, and a moment in time captured by the great author. I think it's the relationship between George and Lenny that keeps pulling us back to this tragic story. It's the plight of man trying to eek out an existence in this dark world, and it's the hope that springs eternal in the simplistic mind of Lennie, "Tell me the story one more time, George." George tells him, some guys just go from job to job, never caring about anybody. They get their paycheck at the end of the week, blow it all at the cat house and saloon, then beat it to the next place and do it all over again. "But not us, George." "Not us, Lennie. Because I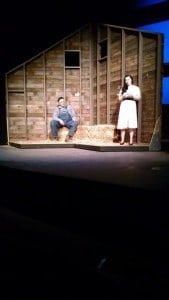 got you. " "And, I got you, George." "That's what makes us different." AAAA theatre cast and crew do a wonderful job of portraying this difficult piece of theatrical literature. Chuck Grussing, who plays Lennie, says he is emotionally drained after each performance. I think that's a sign of a true actor, one who is in touch with his emotions, and those of the character he portrays. Our friend Pete Woit plays George with true heart and compassion. The entire cast is very talented, and I applaud Claudia Bursch for directing such a fine show. You can still take it in this weekend in Alexandria, MN. Merlin Petersen designed this amazing set. He is a gifted artist. He used real Birch trees and saplings to create these two pieces, which are movable and beautiful. The front of the house was also staged nicely with artifacts from the 1930's and original photography by Kirsta Anderson. She framed the rural photos in barnwood to a wonderful effect. You can see more photos on the Alexandria Area Arts facebook page, and website.
Starting this weekend in Brainerd, MN is Servant of Two Masters at Central Lakes College, Challberg Theatre. (My troupe of young actors will be on the Dryden stage Thursday evening, 5:00 for elementary students, and 7:oo for the middle school group.) This is a comedy for audiences throughout the ages. A servant sees dollar signs and adventure in working for two masters, a perfect set up for mishaps, mistakes, and much laughter. Director Patrick Spradlin wants audiences to know that, although the play was written over 350 years ago, it's still a highly entertaining piece. "This play is part of the commedia dell'arte style of plays," notes Spradlin. "Commedia was full of improvisation, topical and local references, and physical comedy. It's some of the best comedy written." You can read more of that interview on the Visit Brainerd website. The play opens on Thursday, April 30 with performances continuing May 1-2 and 7-9. All shows are at 7:30 p.m. in the Chalberg Theatre on the Brainerd campus. Tickets for 'Servant of Two Masters' are available through the CLC Theatre Box Office at
(218) 855-8199or online at www.clcmn.edu/arts. Love this promo photo!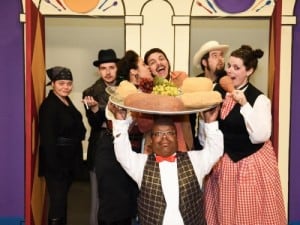 Stage North is in rehearsals for Neil Simon's classic comedy The Odd Couple. Two friends suddenly find themselves single and rooming together. Of course, they're polar opposites. Felix is a neat freak, perhaps a bit OCD, while Oscar is a slob. This sets the stage for much frustration and mayhem. Add in some whacky neighbors and a couple guys trying to adjust to being single, and you have a classic comedy. Come see the show in Brainerd, MN, May 14, 15, 16.
Cream of the Crop Theater in Randall, MN is holding auditions for it's upcoming summer play The Cemetery Club. Parts for three older women, one younger woman, and one man. Sounds like a fun cast, right? I'd audish, but I'll be with family at a camp on a lovely lake the week of final production. But, you can bet I'll be in the front row to watch it opening weekend! Auditions are at the theater upstairs from the Old Quilt Shop in Randall, MN, May 8 & 9. Please visit their facebook page or the website for Cream of the Crop Theater for more details. Performances are July 10, 11, 12, and 17,18, 19. You can also read a lovely article about founder Beth Selinger and her wonderful theater in Her Voice, Spring 2015 edition, p. 32.
This weekend I'll be in the audience for Peter Pan at the Children's Theatre Company in Minneapolis, MN. Stop back for a review. I've already heard that it is a spectacular show. I've been admiring the talents of Tyler Michaels who is playing Peter Pan. He was amazing as Puck in A Midsummer Night's Dream at the Guthrie, and as Freddie in My Fair Lady, also at the Guthrie last summer. And, I see that Art in Bloom is at the Minneapolis Institute of Arts. I'll be there with my camera. It is a gorgeous pairing of floral artists and the institute's amazing collection. 
Go. Create. Inspire!
Journaling Prompt: Have you seen any of these shows? Have a great weekend!