During the month of April, I participate in the Blogging from A to Z Challenge. That is 26 posts in one month, for each letter of the alphabet, time off for good behavior on Sundays. Over 1800 bloggers are participating this year. Last I checked, I was #858. This year, Millie and Willie Cottonpoly, my sock puppet creations, are here to tell you their story and share reviews, ideas, and inspiration with you. They're also helping to teach theatre classes for kids in the Brainerd area, and continue to view and review theatre productions and some books. This retired couple doesn't just sit around watching reruns on MeTv. (Although, Willie does like to put up his feet whenever Petticoat Junction comes on. It's that sound of the train whistle. Millie makes no apologies for watching the Lassie marathon while holding her dog Tillie on her lap.)
P is for Patisserie 46 one of our favorite places to grab a little (or maybe a lot of) breakfast when we're in Minneapolis. It's located in the Kingwood area of South Minneapolis, and boasts fine French baked goods and food in a friendly, relaxed atmosphere. The Biker Chef and I loaded up on bakery items and sat outside on their bench on one of the first warm days of spring. People strolled by, walking their dogs, or stopping in for pastries. I think I had a Kate DiCamillo sighting (a children's book author whose books I love). Although people were sitting inside, enjoying coffee and pastries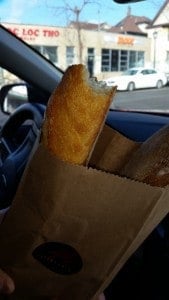 with friends and family, it was a buzz of business and the line to order was out the door. We stopped back the next morning for a loaf of French bread, which the Chef whipped up into the best French toast ever the next day!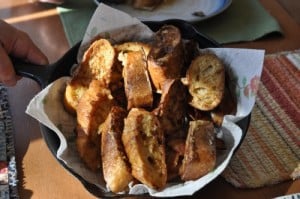 Here's what happened when we shared the box of goodies from Patisserie 46 with Millie and Willie and their neighbor girls Lillie and Billie.
Lillie and Billie: (enter their house) Hi, Millie! Where's Willie? We heard you got some treats from Patisserie 46.
Millie: I don't know where he's slipped off to.
Tillie: (their dog) Woof, ha, ha, ha.
Lillie: (leans down to pet Tillie) Oh, hi, Tillie. I'm happy to see you, too.
Billie: (scratching Tillie's chin) What's this? Why are you so sticky?
Millie: (feeling suspicious) Tillie, did you get into the pastries?
Tillie: (wimpering and shaking her head, does a few circles, then walks away, stops, and waits for the girls and Millie to follow.)
Millie: Oh, there you are, Willie! Enjoying a morning coffee out on the deck?
Lillie: Good morning, Willie.
Billie: Hey, Willie. Millie said there might be a croissant left, or maybe some pain au chocolat?
Millie: Willie, do I see crumbs on your chin and down your shirt?

(They all stare at Willie. He carefully brushes crumbs from the croissant off his trousers.)
Willie: Who's up for a drive to the cities? We could take in a show, after stopping by Patisserie 46.
Billie: I just texted our mom. She said, Yes, and bring her back an almond Brioche Bostock.
Millie: (shakes her head and gets her purse) What show do you girls want to see?
Lillie: Oh, Romeo and Juliet is playing at Park Square Theatre. I'm dying to see that one!
Billie: Peter Pan, for sure. It's playing at The Children's Theatre Company. I can't wait to see all that swashbuckling, hear the ticking of the crocodile, and watching Lillie get scared when they kidnap Tiger Lilly!
Lillie: Give it a rest, Billie. I'm not scared of that. Anyway, I hear they have sword fights in Romeo and Juliet, too.
Willie: (as the girls continue to bicker about the show, and Millie fusses about someone eating all the pastries, Willie begins to quietly sing) I've been working on the railroad…
Lillie and Billie: (chiming in) all the live long day. I've been working on the railroad just to pass the time away.
Millie: (rolling her eyes) Oh, for Heaven's Sake!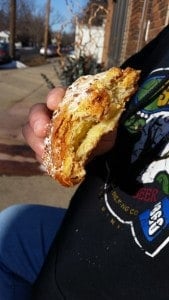 Well, croissants do make a crumby mess!
Go. Create. Inspire!
Journaling Prompt: Do you have a bakery where you live? Are they a dying breed of restaurant? Let's start a campaign, "Bring Back Bakeries!"