During the month of April, I participate in the Blogging from A to Z Challenge. That is 26 posts in one month, for each letter of the alphabet, time off for good behavior on Sundays. Over 1800 bloggers are participating this year. Last I checked, I was #885. This year, Millie and Willie Cottonpoly, my sock puppet creations, are here to tell you their story and share reviews, ideas, and inspiration with you. They're also helping to teach theatre classes for kids in the Brainerd area, and continue to view and review theatre productions and some books. This retired couple doesn't just sit around watching reruns on MeTv. (Although, Willie does like to put up his feet whenever Petticoat Junction comes on. It's that sound of the train whistle. Millie makes no apologies for watching the Lassie marathon while holding her dog Tillie on her lap.)
M is for Marie Howe. She shared her poetry with us at Central Lakes College in Brainerd, MN last week at a lovely poetry reading. She lives and works in New York City, teaching at Sarah Lawrence College and Columbia University. She stood up front, breathed in deeply and said, "The air in Minnesota is delicious," and "You have so much space here." I sat in the back for this reading and observed all the kids in camo clothing, the sleepy guys who were probably told to come to the reading as extra credit for their English class. Interspersed among the first time attendees of a poetry reading were some older ladies who love to read and write poetry. Marie has a musical way of reading her poetry. She's spiritual and thoughtful, without apology. Many poets read their poems and finish them with what feels like a bow, and we usually applaud. Not Marie, her words float off her tongue and hang in the air. She stops reading and looks up like the words aren't quite, yet, done resonating, like when the conductor keeps her hands in the air after the choir has stopped singing, letting that final note linger among the rafters a while longer. We were quieter at this reading, listening, not interrupting with applause, or too much coughing. 
I do not consider myself a poet. I put some words together, now and then, in a private journal, that might be interpreted as a poem. So, I was surprised that I felt such a strong connection to Marie Howe, and even thought of poems I could write about my children, my mother, my spirituality, and reflections on life. Here are a few of her words, from her collection The Kingdom of Ordinary Time. I wish I had recorded her reading it, her voice is so lovely to listen to.
Mary (Reprise)
What is that book we always see-in the paintings-in her lap?
Her finger keeping the place of who she was when she looked up?
When I look up: my mother is dead, and my own daughter is calling
from the bathtub, Mom come in and watch me-come in here right now!
No Going Back might be the name of that angel-no more reverie.
Let it be done to me, Mary finally said, and that
was the last time, for a long time, that she spoke about the past.
Marie was kind and warm, and gave everyone who stood in line to have her sign their book special attention. I said to her, "I'll have to confess that I bought this book the way I often chose a wine bottle, by the cover art." This launched into a story about the artwork on the cover. Her daughter colored and the cover artist added to it, back and forth a few
times. She has the original hanging on her wall. Here we are together as she's explaining that to me.
Millie and Willie had a discussion about poetry.
Millie: Goodness, Willie, I almost forgot about the poetry reading at the college this afternoon. Find your shoes, we need to get going.
Willie: (Muting the volume on Petticoat Junction) So, we're going to poetry readings all the time, now? We had K.C. Hanson's yesterday with his Lazarus Project, now this one.
Millie: And, remember, you really enjoyed K.C.'s poem about Leaving for St. Louis.
Willie: The picture was of two people on a train, going on a journey out west. I felt a connection, since I've spent my life working on the railroad.
Millie: We don't have time to sing the song, Willie. Marie Howe is already there. She's come all the way from New York City!
Willie: Do you think she has any poems about Grand Central Station?
Millie: I don't know.
After the reading.
Willie: That was pretty good, Millie. No train poems, but she did mention food now and then.
Millie: She was writing about the spiritual journey, Willie. I felt a connection.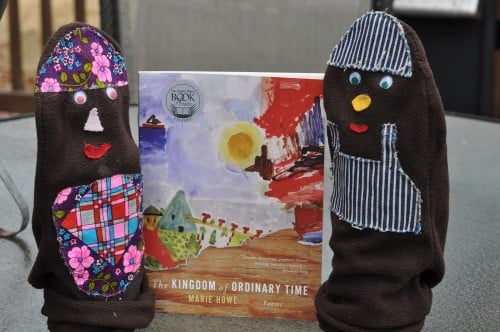 Go. Create. Inspire!
Journaling Prompt: What connects you to a performance, reading, or story?