During the month of April, I participate in the Blogging from A to Z Challenge. That is 26 posts in one month, for each letter of the alphabet, time off for good behavior on Sundays. Over 1800 bloggers are participating this year. Last I checked, I was #883. This year, Millie and Willie Cottonpoly, my sock puppet creations, are here to tell you their story and share reviews, ideas, and inspiration with you. They're also helping to teach theatre classes for kids in the Brainerd area, and continue to view and review theatre productions and some books. This retired couple doesn't just sit around watching reruns on MeTv. (Although, Willie does like to put up his feet whenever Petticoat Junction comes on. It's that sound of the train whistle. Millie makes no apologies for watching the Lassie marathon while holding her dog Tillie on her lap.)
K is for Linda Kelsey who stars as Juliana in Park Square Theatre's production of The Other Place by Sharr White. This is a psychological drama that is told from the perspective of Juliana who is experiencing the symptoms of early onset Alzheimer's Disease. What is heartbreaking is the sad confusion that she lives in and the chaos she creates for others. We aren't sure if what we're seeing is a memory, a mixed-up memory, or a fantasy that only she sees as reality. Three other actors weave in and out of scenes, playing various characters in her life. The show runs 90 minutes, with no intermission, creating a feeling of intensity and the need to focus, even as the subject is foggy. 
Kelsey has had an extensive career on stage, in movies, and television, including the role of Billie Newman in Lou
Grant. I looked up her bio and was surprised to see that she is almost 70. I thought she was younger. While watching her perform, I totally believed that she was a woman in her 50's, educated, intelligent, someone who had studied the brain, and was now suffering one of the worst diseases imaginable. We wonder as we watch, what's reality, and what is the mystery she is trying to solve from her own past.
Other K's in this production include Director Aditi Kapil, who staged a show I could watch many times over. The set was simple, representational, and had surprise elements that added another dimension to the performance. Kirstin Ellert  was Scenic and Projection Designer, Kathy Kohl was Costume Designer, and Michael P. Kittel was Lighting Designer. The non-K's also gave outstanding performances on and off stage. Assistant Director Addie Gorlin, Sound Designer C. Andrew Mayer, Properties Designer Sadie Ward, Stage Manager Megan Fae Dougherty. The other cast members are James A. Wiliams, Joy Dolo, and Matt Wall, who made each of their characters distinct.
So many families are dealing with this horrible illness. It robs people of their memories and dignity. They don't recognize loved ones. The people around them don't quite know what to do or how to react. Watching plays like The Other Place, and reading books like Still Alice by Lisa Genova (I hear the movie is also great.) help us see how it is for some people and to know that you're not alone in this struggle. The theatrical trailer offers a glimpse of Kelsey's phenomenal performance and this brilliant production.
Millie and Willie had their own talk about memory and growing old.
Willie: Sometimes, I'm afraid, Millie. That I won't be there for you when we're old.
Millie: None of us knows what illnesses we might get, or how gracefully we'll age.
Willie: It seems impossible to forget you, or all the great memories we've made together.
Millie: We have the pictures, of course, and I keep a diary.
Willie: I have my travel journals and bandannas from the places we stopped at when I was working on the railroad.
Millie: We'll help each other as best we can, Willie.
Willie: I'll keep retelling you our story, Millie, emphasizing all the good parts.
Millie: I know you will, and if you're slipping away into your own time zone, I'll bring you back with your favorite song.
Willie: But, Millie, you hate that song.
Millie: I don't hate it. I just get tired of hearing it so many times. But, I'd sing it for you, Willie. I'll always think of you whenever I hear it.
Willie: Could we sing it right now, Millie?
Millie: Alright, Willie.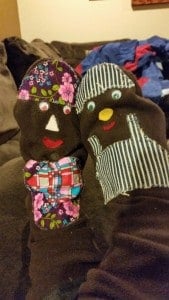 They wrap themselves around each other, singing a round of I've been working on the railroad. Remembering the old days, holding onto the good ones that they still have to experience together.
Go. Create. Inspire!
Journaling Prompt: What's your favorite song? What would be playing on the soundtrack of your life?