During the month of April, I participate in the Blogging from A to Z Challenge. That is 26 posts in one month, for each letter of the alphabet, time off for good behavior on Sundays. Over 1800 bloggers are participating this year. Last I checked, I was #885. This year, Millie and Willie Cottonpoly, my sock puppet creations, are here to tell you their story and share reviews, ideas, and inspiration with you. They're also helping to teach theatre classes for kids in the Brainerd area, and continue to view and review theatre productions and some books. This retired couple doesn't just sit around watching reruns on MeTv. (Although, Willie does like to put up his feet whenever Petticoat Junction comes on. It's that sound of the train whistle. Millie makes no apologies for watching the Lassie marathon while holding her dog Tillie on her lap.)
J is for jokes, and who loves to make people laugh the most? Mr. Happy, of course. He found some gems in an old joke book called 101 Back-To-School Jokes by Lisa Eisenberg and Katy Hall. It looks like you can still find their books online. This one was published in 1994 by Scholastic. I think we got it at a school book fair. (Funny story, I grabbed three of these same type of joke books, flipped open the first one and found these from the cafeteria. They seemed to be quite fitting considering the theme of this blog, our food blogging on Dine off the Page, and the quick exchange of wit.)
Mr. Happy: I've gathered you all here today to lighten the mood. Yes, even you Leo.
Mr. Happy: So, Steve says to the cafeteria worker, "What kind of stew is this? Cafeteria worker answers, "Rabbit stew – you can tell by the hares in it!"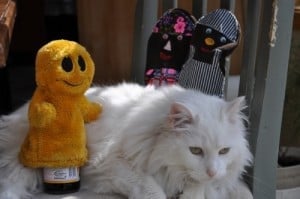 Mr. Happy: Chill, Leo. That wasn't a reference to you and all that fur. I'm sure you keep it under control.
Mr. Happy: Okay, Willie, you'll like this one. Andrea says to the cook, "How did you learn to make this pasta?" The cook responds, "I just used my noodle."
Willie: Oh, that is a good one. I like pasta, especially egg noodles
(Millie slaps her head and groans.)
Mr. Happy: Just wait, just wait, I've got one more. Kelly asks the server, "Are you serving crabs today?" Server answers, "Pick up a tray! We serve anybody!"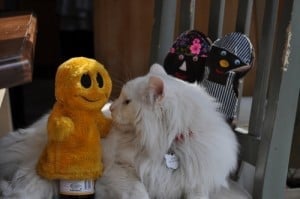 Leo gives Mr. Happy a disdainful look.
Mr. Happy: I thought you'd like that one! Don't look at me like that. I don't taste like chicken. Are you going to lick me? Millie? Are you a cat whisperer, too?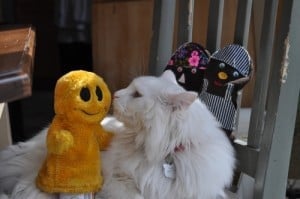 Go. Create. Inspire!
Journaling Prompt: Got any good jokes? What makes you laugh?