During the month of April, I participate in the Blogging from A to Z Challenge. That is 26 posts in one month, for each letter of the alphabet, time off for good behavior on Sundays. Over 1000 bloggers are participating this year. Last I checked, I was #931. This year, Millie and Willie Cottonpoly, my sock puppet creations, are here to tell you their story and share reviews, ideas, and inspiration with you. They're also helping to teach theatre classes for kids in the Brainerd area, and continue to view and review theatre productions and some books. This retired couple doesn't just sit around watching reruns on MeTv. (Although, Willie does like to put up his feet whenever Petticoat Junction comes on. It's that sound of the train whistle. Millie makes no apologies for watching the Lassie marathon while holding her dog Tillie on her lap.)
French cooking has been long-revered as some of the best food in the world. This past weekend, The Biker Chef and I enjoyed an exquisite dining adventure at the hottest new restaurant in Minneapolis, MN, the Spoon and Stable, starring owner and Chef Gavin Keysen. We wrote up a full review on our Dine off the Page blog. Click over there after reading Willie and Millie's discussion with Mr. Happy on the fancy, new restaurant. It's all about the spoons.
Willie: Hey, Mr. Happy, what's up with the big spoon?
Mr. Happy: The Biker Chef and Mary have reservations for the Spoon and Stable, so I grabbed the biggest spoon I could find.
Millie: Um, Mr. Happy. Usually at a fancy restaurant like that, they provide the spoons.
Mr. Happy: I know, but I heard that the owner, Chef Gavin, has a big spoon collection, so I found a big spoon.
Willie: I heard that his spoon collection actually comes from restaurants where he's had a memorable dining experience.
Millie: In other words, he steals spoons.
Mr. Happy: He can have this one for free, right after I use it to scoop up the Sunchoke Soup. The Biker Chef said it was "Heaven on a spoon."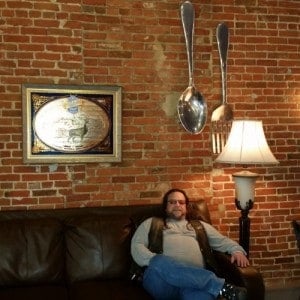 Millie: Willie, where are you going?
Willie: I need help getting that big spoon off the wall. I'm hungry.
Millie: Oh, for Heaven's sake.

Go. Create. Inspire!
Journaling Prompt: Do you enjoy French cooking/food? Do you have a big spoon collection?