During the month of April, I participate in the Blogging from A to Z Challenge. That is 26 posts in one month, for each letter of the alphabet, time off for good behavior on Sundays. Over 1000 bloggers are participating this year. Last I checked, I was #951. This year, Millie and Willie Cottonpoly, my sock puppet creations, are here to tell you their story and share reviews, ideas, and inspiration with you. They're also helping to teach theatre classes for kids in the Brainerd area, and continue to view and review theatre productions and some books. This retired couple doesn't just sit around watching reruns on MeTv. (Although, Willie does like to put up his feet whenever Petticoat Junction comes on. It's that sound of the train whistle. Millie makes no apologies for watching the Lassie marathon while holding her dog Tillie on her lap.)
E is for Easter and Eggs, Willie's favorite food. What a blessed day. Plus, it was my mom's Birthday! Happy Birthday, Mom! It was a beautiful celebration.
Willie: Call Jane, Millie. I'm worried that no one is bringing the deviled eggs. The Chef didn't make any. The kids didn't color eggs this year. What if we don't have deviled eggs on Easter Sunday?!
Millie: Calm down, Willie. I'm sure someone is on it. But, yes, I'll call Grandma Jane…yes…uh, ha. I know. Looking forward to seeing you.
Willie: Well? What did she say? Should the Biker Chef start boiling eggs?
Millie: Arianna made the eggs.
Willie: Whew.
Millie: Ok, Willie. Don't forget the plant and the gift.
Willie: Can Mr. Happy ride along?
Millie: Of course. We'll also be having a poetry reading.
Willie: Erm…what? I'm not sure if Mr. Happy likes poetry readings.
Millie: Oh, he'll like this one.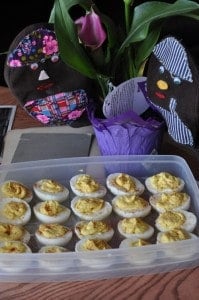 (Come back on L day to find out who was reading poetry and how Mr. Happy  and Millie and Willie enjoyed it.)
Willie: I want to eat them all.
Millie: Save some for other people, Willie.
The Bike Chef: I predict they'll all be gone in 20 minutes.
Arianna: There will be one left. There's always one left.
When the party was over, there was exactly one deviled egg left in the container. Grandma Jane, the Birthday girl, got to bring it home.
Go. Create. Inspire!
Journaling Prompt: Do you celebrate Easter, or Spring, or have any Birthdays this weekend? What is your favorite treat?