Minnesota Monthly Food and Wine Event, Spring 2015
The Biker Chef and I dressed up in our new chef's jackets and attend the Minnesota Monthly Food and Wine Event in Minneapolis, March 7 & 8, 2015. They held the event inside at the Target Field, where you would go to watch the Minnesota Twins play baseball in the summer. The sun was offering its springtime warmth, although the wind still had a bite to it. We walked over to the field from our hotel with a brisk step. The line to enter snaked around the parking ramp hallway, and I'll have to admit, it took a few tries to figure out which door to enter (signs at the stadium door would have been helpful). With over 80 vendors, we had plenty of choices to sample. Although, my Minnesota nice gave me some concern. Do I stand in line, not entirely sure for which sample, or do I muscle my way into the to booth and stick my hand, or my glass, out for a sample? I tried a little of both. The Biker Chef says, "You gotta muscle your way in." Some booths had clear lines. Others did not. The cheese booths from Wisconsin were particularly crowded, but worth the body jarring to get a taste!
Some favorites from the event included the beef tacos from Lucky's 13 Pub (locations in Fargo, Bloomington, Mendota, Plymouth, and Burnsville). We'll be going there next time we're visiting our relatives in Fargo. We also liked the Minnescato wine from Carlos Creek Winery, a place we've both enjoyed visiting and sampling, in the Alexandria area. Winner of our personal taste award was BelGioioso cheese making company,
known for its fresh mozzarella. We sampled the bread, spread with Crescenza-Stracchino and drizzled with honey. Then we went back and sampled some more. I quickly snapped this pic when people pulled their hands away for a second.
A couple different vendors had Bloody Mary mix. I tried one for the first time at this event. I don't normally like tomato juice, so have never been excited about tasting it. Although, I am impressed by how many food items they can skewer together and add to the drink. We have a local bar in the Brainerd area, K.C.'s Saloon, that includes numerous items ("Anything we have lying around," says owner Kim – shrimp, eggs, pickles, olives, carrots, peppers, etc). I was skeptical, but tasted it anyway. It's good, has a nice spice to it. You can get them spicy or mild. I could maybe have one on a special occasion. I can't imagine knocking back several of those things. The acid would kill you! But, the lunch included on a stick, would really satisfy.
Towards the  back of the vendors, we finally found the August Schell Brewing Company's booth. I turned around for a second, looked back, and there was The Biker Chef behind the booth, schmoozing it up with the vendors and the woman from MN Monthly who coordinated the event! Schell's is The Biker Chef's home town brewery of New Ulm. We toured their brewery last year, including a beer tasting. Pretty good brews there, I tell ya!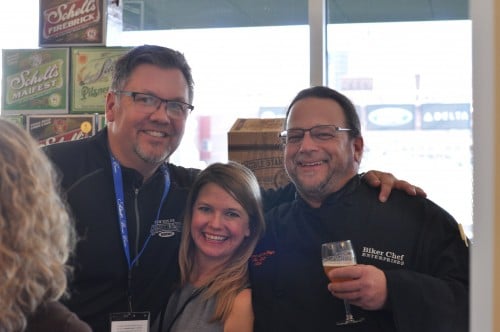 We were starting to get full and a little sloshy as we worked our way back out of the event. That's when we ran into some friends. Tracy and Sarah were at the Rutger's Bay Lake Lodge booth. They do photo shoots and promotions for the resort which is located up in our next of the woods. We chatted on about Tracy's latest adventures with her husband, including a podcast called Eat This, Twin Cities. Tracy and I met as blog reviewers at The Guthrie Theater. We both agree that their current production of A Midsummer Night's Dream is…dreamy. Those dancers set your heart a-pumpin'!
We were also lured into the set-up for Love Your Melon. We noticed these funny, young people dressed in super hero costumes, taking pictures with the patrons. I asked about the hats (thinking of the chilly walk back to the hotel), and learned that it's a fundraiser. For every hat that is bought, they donate one to a kid battling cancer. What a great cause! The hats are soft and warm, and the kids who need them get a loving gift and a visit from a super hero. The young people who volunteer are usually college students. They also offer other support and adventures for the kids. 
Some tips when attending a large event like this: Carry one over-the-shoulder bag to keep your hands free and easily stuff in the papers, coupons, and gifts. Grab a tray to hold your drink and food sample. Try not to over dress! As soon as you enter, go to the back of the room. Most people start with the first booth, which gets over crowded, and there's plenty of room if you work your way from the back to the front. Don't be afraid to talk to people, ask about their product, and let them know about yourself. We made some great connections that day.