I am excited to be able to offer a Family Four Pack of tickets for "Snowflake" at the Children's Theatre Company in Minneapolis, MN. The package is a voucher for four tickets for a performance of "Snowflake," that the family can choose. This is a great option for my readers who don't live in the metro. Please leave a comment below, or on my Facebook page for Play off the Page, to be entered into a drawing for the tickets. Deadline is midnight Saturday, January 17, 2015. I will draw and announce the winner on my blog on Sunday, January 18, 2015. "Snowflake" will play at The Children's Theatre Company in Minneapolis from January 13 – February 22, 2015. I have included production photos and the press release in this post. Thanks! I look forward to viewing and reviewing this production at the end of this week.
25th Anniversary of the Inventive, Tender and Highly Celebrated Performance of Snowflake
Comes to Children's Theatre Company
MINNEAPOLIS—Children's Theatre Company (CTC) presents Snowflake, celebrating its 25th Anniversary
with a run at CTC, where it was created by master storyteller, Gale LaJoye. Hailed by critics and audiences
worldwide as "a must see," Snowflake opened at the Southern Theater in 1990 and has since toured to
Canada, Mexico, Australia, Hong Kong, Scotland, and to 300 cities in Japan. Snowflake runs from January 13
through February 22 on the UnitedHealth Group Stage.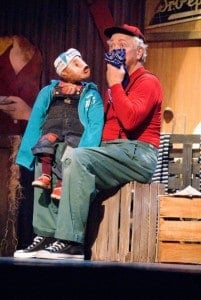 Snowflake is a wordless play that uses artful physical humor to tell the story of Snowflake, a goofy, sweet and slightly mad genius who sees renewed life in discarded objects – turning an old box fan into a boomerang and an old suitcase into a friendly dog, revealing the magical world around us waiting to be rediscovered through imagination.
The show began in CTC's shop in 1989 as a collaboration between Gale LaJoye, Steve Unger, Tom Anderson, and CTC's Music Director Victor Zupanc. Previous to creating Snowflake, LaJoye performed with the Ringling Brothers and Barnum and Bailey Circus and after four years, earned one of the highest honors in the circus tradition of 'Boss Clown.' To much surprise of those who see him perform today, LaJoye was
paralyzed in 1979 from a car accident and was told he would never walk again. Driven to be a performer, he rebuilt his body and embarked on creating the now acclaimed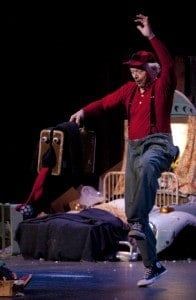 Snowflake.
"The inspiration for this show came from a man in my hometown affectionately known as Snowflake," reflects LaJoye. "A simple man of few words, Snowflake radiated decency, kindness and hope. He was – as each snowflake is – like no other. Snowflake was special in the way he celebrated his life – a life many others feared or pitied."
"Gale LaJoye is a master storyteller in the tradition of Buster Keaton and Charlie Chaplin," says CTC Artistic Director Peter C. Brosius. "He can make you laugh, cry and be surprised without uttering a single word. One of the qualities that makes Snowflake so engaging is how it speaks to the human heart in the universal language of gesture, humor, and play. Every one of us possesses a playful, inventive spirit honed in our
childhood that may fade as we grow older but never truly goes away."

The production is sponsored by Microsoft and Arts Midwest. More about the production can be found at
www.LaJoye.com.
BOX OFFICE: (612) 874-0400
childrenstheatre.org
2400 Third Ave S, Minneapolis
BOX OFFICE:
(612) 874-0400 or www.childrenstheatre.org
Subscriptions:
Three-play A packages for children ages 2-7 start at $42
Three-play B packages for children 8 and up start at $50
Performance Dates
Tuesday, Jan 13 7pm (preview)
Wednesday, Jan 14 7pm (preview)
Thursday, Jan 15 7pm (preview)
Friday, Jan 16 7pm (opening night)
Saturday, Jan 17 2pm & 5pm
Sunday, Jan 18 2pm & 5pm
Thursday, Jan 22 7pm
Friday, Jan 23 7pm
Saturday, Jan 24 11am & 2pm
Sunday, Jan 25 2pm & 5pm
Sunday, Feb 1 2pm & 5pm
Thursday, Feb 5 7pm
Friday, Feb 6 7pm (AD performance)
Saturday, Feb 7 2pm & 5pm
Sunday, Feb 8 2pm & 5pm
Wednesday, Feb 11 7pm
Friday, Feb 13 7pm
Saturday, Feb 14 11am & 2pm
Sunday, Feb 15 2pm & 5pm
Wednesday, Feb 18 7pm
Friday, Feb 20 7pm (Sensory Friendly performance)
Saturday, Feb 21 11am & 2pm
Sunday, Feb 22 2pm & 5pm