Quote of the Day:  Do stuff. Be clenched, curious. Not waiting for inspiration's shove or society's kiss on your forehead … Pay attention. It's all about paying attention. It's all about taking in as much of what's out there as you can, and not letting the excuses and the dreariness of some of the obligations you'll soon be incurring narrow your lives. Susan Sontag
You can make yourself live forever through writing. Do not pass through life without leaving something behind for others to learn from your experiences — even if no one but your children read it. Write of your dreams. Write alone and in a quiet place. Be honest. You may discover a you you've never known. Susan Sontag 
Aren't those quotes just wonderful?! As I enter the year 2015, I am embracing the word CREATE. My send off on Play off the Page is "Go. Create. Inspire." Last year, I chose the words Fun and Prosper. In some ways that was embracing the first of my three words, GO. Because, you can't have fun just sitting on the couch by yourself, and you certainly won't prosper. (Although, as we have dubbed our giant sectional couch "The Quicksand," I will confess to having been trapped in its warmth and comfort from time to time.)  Here I am, relaxing in the comfort of my home, casting off the last of the stitches on a knitting project I started in 2014. I knit while riding down the highways. I knit while waiting for the acts to finish while I sat with the choir girls during Stage North's production of A Christmas Carol. I knit during Advent devotions at my church. I knit while on that comfy couch, my family in spots near me. I stitched together something from just a ball of yarn and knitting needles. As I cast those final stitches off, I felt the satisfaction of creating something, in this case something warm and comforting. I felt the freedom to start something new. It seemed like a great metaphor for starting a new year, and the call to CREATE is loud and clear. I bought a few art supplies, a shiny new journal, a book called Fearless Drawing, colored pencils and pens, and five new balls of yarn. I'm ready to dive into 2015!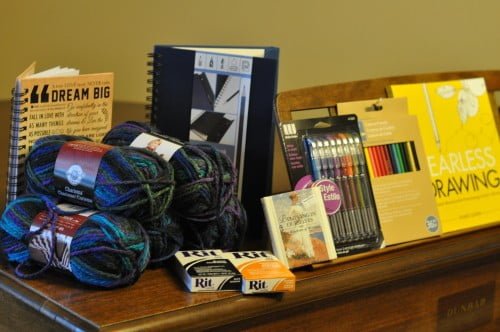 In addition to starting new projects like knitting and learning how to draw better, I am writing! I will finish writing the play I've been working on in 2014, Grace Notes: Piano Bench Confessions, and plan to have a table reading at the end of February (Matt and Beth, are you up for another brunch and play reading experience?) I am excited to see what I produce, and through my teaching of piano students and theatre classes, I am equally as excited to see what the kids produce and how we can build our community through our art. (PS: The Biker Chef said that his word is Build. I'm thinking he could build us a mighty fine brunch for that table reading. *wink)
Go. CREATE. Inspire!
Journaling Prompt:  What's your word, or statement, for the year? (I have a friend who makes a statement for the year, like "Make it happen." Or, "I don't work for free!") Whether it's a word, statement, goal, or resolution, I wish you the energy and moxy to make it successful!