Quote of the Day:  The Brighter Days Foundation's purpose is to help seriously and chronically-ll children, ages newborn to 18 years of age, and their families living in the Brainerd Lakes Area in Minnesota. We do this by surprising them with meaningful gifts and/or opportunities to brighten their day. The Brighter Days Foundation is set up to help bring the community together that the child resides in through fundraising events and gift presentations by volunteers. Brighter Days Foundation Mission Statement
I attended the Brighter Days Foundation 5th Annual Gala and Silent Auction Event at the Old Depot (Northern Pacific Center) with my friend Krista Rolfzen Soukup. She invited me to be her guest and helped me find a costume for the 1920's Theme (Gatsby) Party. It's fun to play dress up, even more so when it's a for a good cause. The event sold out, and had many, many nice silent auction items from a wine and chocolate basket (which I bid on and won) to a Franchi Instinct Over Under 12 gauge from REEDS sporting Goods, jewelry, food, getaways, a yoga package.
You can see more of the items and photos from the even on their facebook page. All the money raised from this event goes to the Brighter Days Foundation which has already made the days brighter for kids and their families in our area who have had major health issues that affect them and their families' lives. It is associated with the Make a Wish Foundation. The slide show and speeches brought tears to our eyes.
The old depot sparkled with decorations and and lovely flowers everywhere.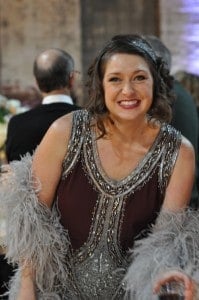 Prairie Bay catered a delicious meal, and all the guests were dressed to the nines, whether they were in period costume or modern gala attire. Thank you, Jeanni for starting Brighter Days Foundation, here in the Brainerd lakes area. Thank you to everyone who came out in support of the event and who donate throughout the year. You can learn more about events, donate, volunteer, and nominate families at their website. 
Go. Create. Inspire!
Journaling Prompt:  Have you been to a dress-up gala event? Do you still like to play dress-up? Do you have similar organization in your area?