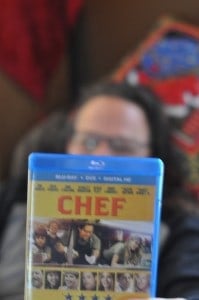 The Biker Chef got the movie Chef for Christmas. It seemed like a good pick for him considering the title, the star-studded cast (including writer, director, producer Jon Favreau, Sofia Vergara, Scarlett Johansson, John Leguizamo, Bobby Cannavale, Dustin Hoffman, Oliver Platt, Robert Downey Jr., and young actor Emjay Anthony), and that it's billed as a comedy. I thought it would be good for an evening in on the big, comfy couch (dubbed "the Quicksand"), on a cold December night. I thought he might find a thing or two to relate to, enjoy a film portrayal of the restaurant life, and the dynamics of the kitchen. Did he relate? Oh, yes. He had me pause the movie at least three times and asked, "Is this a set-up?" "Did you write the screenplay?" "Has someone been following me for the past couple of years?" It was great. I laughed. I denied everything. (I honestly didn't know a thing about the movie before we watched it.) Although, I would love to be the food writer/reviewer Ramsey Michel (portrayed by Oliver Platt), my reviews have not yet been picked up and retweeted millions of times, and there are no offers to by my brand (there's still time). What happened in this movie, much like what happened to me when watching Julie and Julia, the inner longings are tapped and brought to life by those who have already realized their dreams. But, hey, this is America, and the "American Dream" is still alive. Is it attainable? Maybe. For some, it seems to be. Isn't that why we are drawn to movies like Julie and Julia, Erin Brockovich, Rocky, and Chef?
So, what did we think about the movie Chef? I liked it. I laughed. I enjoyed watching the action of restaurant life, the evolving from feelings of hitting rock bottom to ultimate success. Together, we enjoyed watching the movie and making comments, giggling at the similarities of the Biker Chef's dreams and frustrations with those of the  main character, Chef Carl. The Biker Chef gives it about 4 stars, and I agree. While it is highly entertaining, and the portrayal of the restaurant biz realistic, it's all too convenient in the end. A food truck suddenly becomes available. With a little elbow grease, a devoted friend, and the tech savvy of a 10-year-old kid, people line up for the product and the brush with fame. On the other hand, we have spoken the exact words you hear in this film: You're not happy working for someone else. What about your dreams of going out on your own? What about a food truck? How does this Twitter thing work anyway? And, the scene with the publicist (thought of you, Krista) where she's basically saying "All publicity is good" whether you come out looking like a genius or a fool.
As the New Year begins, let's grab those dreams and insecurities by the horns and ram them together. Think about what makes you come alive, and pursue it. Maybe they'll make a movie out of your life someday. Or not. In the meantime, you've done something that lights your fire and felt like you were truly living, and that's what gives us a satisfying life.
Go. Create. Inspire! (I'll be writing about my word for the year under Play off the Page. Do you have a word?)